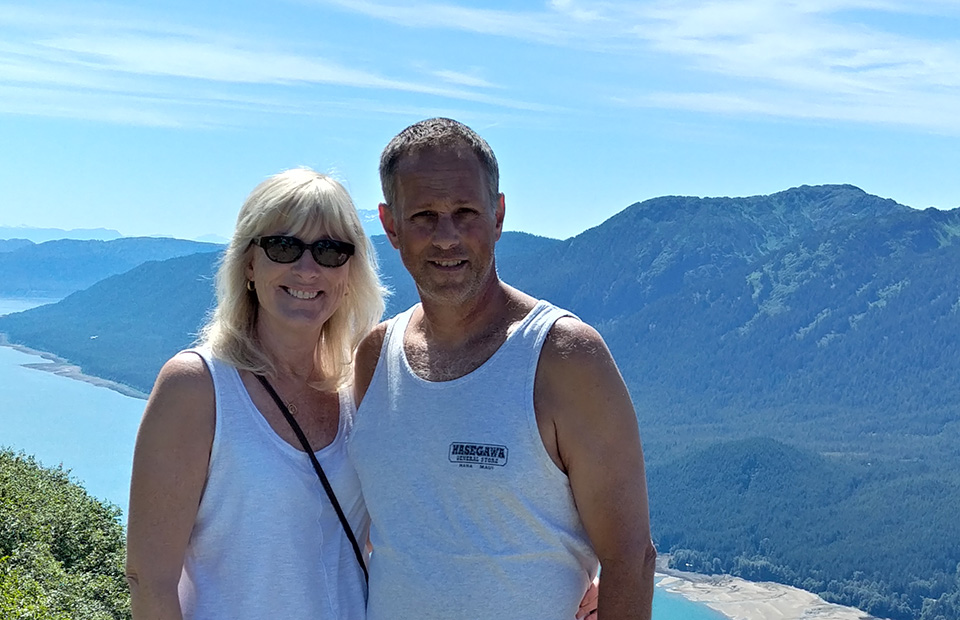 Prudy and her husband Brad enjoy the views of Juneau, Alaska, in 2018.
As Prudy Nau celebrates her 25th work anniversary this month, she's feeling a sense of pride and accomplishment about her career. Especially regarding her ability to continue adapting to new roles and help people.
Prudy started meeting people — a lot of people — on her very first day as a shuttle driver running the circuit around the buildings of our former corporate headquarters campus in Federal Way.
"I really liked driving," says Prudy, who also drove the airport shuttle for a while. "I met so many awesome people, and I'm still friends with many. One became such a great friend he even came to my wedding! Some passengers told me I was like the bartender of Weyerhaeuser, always making connections."
Ten years ago, she moved to an IT buyer role and has since connected with thousands of other employees across North America. Though her current role required mastering new skills, from typing to logistics to vendor management, Prudy still relies on her exceptional people skills to get the job done.
"There's a lot of pressure to make sure people get what they need, when they need it," Prudy says. "But I'm still making friends."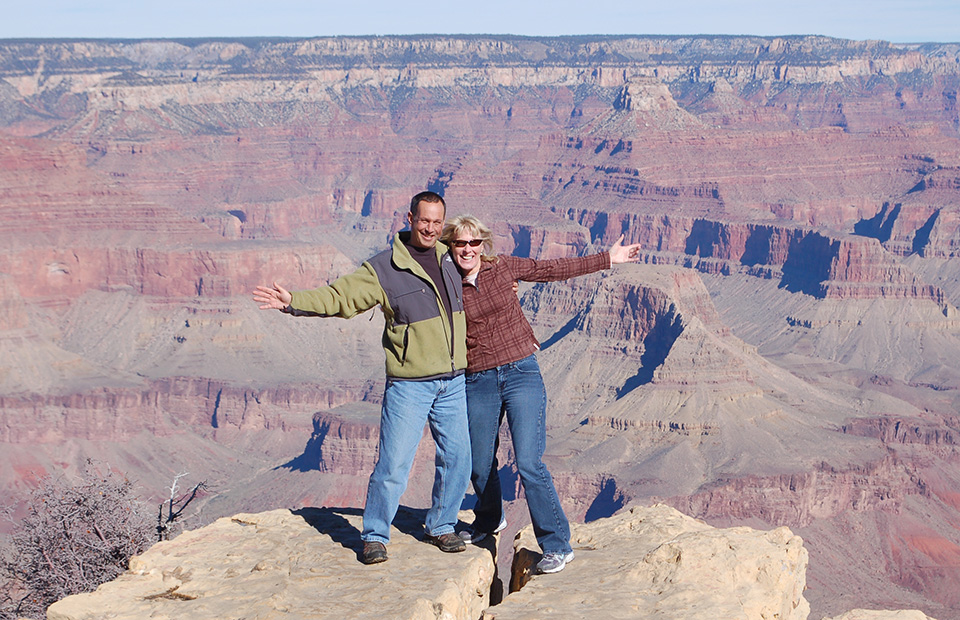 Prudy and Brad enjoy the Grand Canyon's magnificent vistas during a 2017 vacation.
MEET PRUDY
Your title is IT buyer. Tell us what you do.
In a nutshell, I order IT hardware and software for employees in the U.S. and Canada, primarily supporting the Wood Products team and corporate functional groups like IT. I order most of the standard IT equipment: Monitors, headsets, desktops, laptops and servers.
What led you to choose this job?
The shuttle program was discontinued in 2013 after Weyerhaeuser sold the homebuilding business and our Federal Way campus consolidated into fewer buildings. I worked in the mailroom for about 10 months. Then, a person in my commuter vanpool, Sue Seabaugh, who's now retired, suggested I apply for an open position as an IT buyer. I wasn't sure the job was right for me since I wasn't very computer savvy at the time — I had a desktop computer at work during my shuttle years, but I wasn't familiar with the software and applications I'd need to use as a buyer. But I'm so glad I applied. I've had excellent mentors here who encouraged me to grow, and I'm very grateful both for their support and the support of my team members.
Tell us what your day is like.
I'm on the computer and phone all day long, starting around 6 a.m. The first thing I do is go through the team's shared email box, then our ticketing system — which tracks open orders, upgrade requests and break-fix issues. Then I update customers on order status. I'm proactive because, aside from routine replenishment, people order something because they need it. We also had a record number of orders after all our Seattle employees shifted to working remotely due to COVID since many people weren't set up to work from home.
What's your favorite part of the job?
I'm a people person, so I enjoy connecting with people from all parts of the company, all across North America.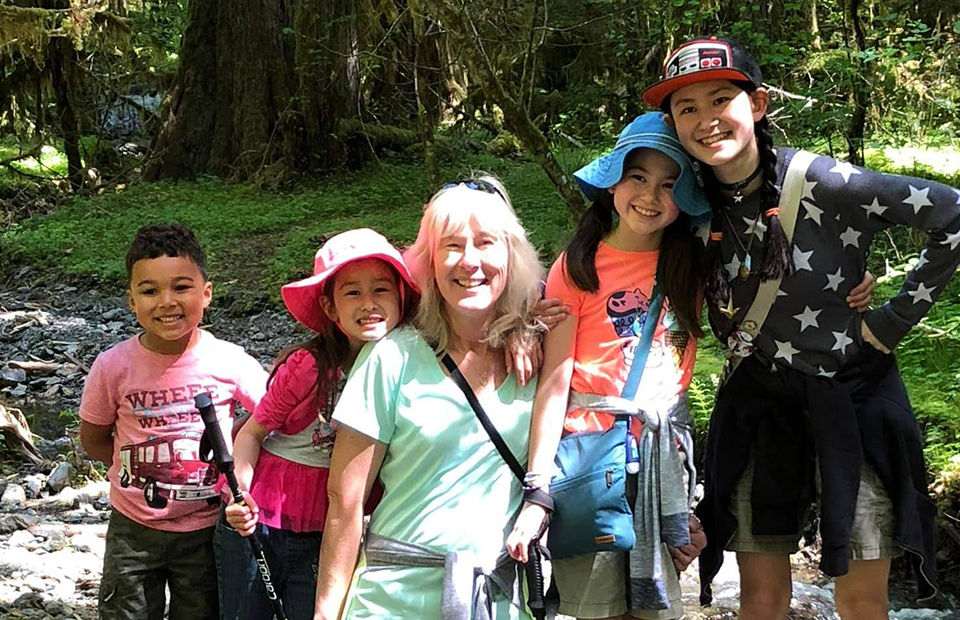 Prudy takes her grandkids hiking in the temperate rainforests of Washington's Olympic Mountains.
You must have some challenges. What are they?
The supply chain disruptions of the past two years have been incredibly challenging. Laptops are built overseas, and for a couple months very few were delivered. Docking stations are still taking several months. Even after a piece of equipment ships, it might end up sitting on a boat for weeks before it's unloaded. Now we have the China shipping constraints adding to our delivery times.
What advice would you give people who want a job like yours?
When we hire, we look for someone who's willing to learn, has exceptional customer service skills and can be a proactive problem-solver if a vendor cancels an order or an order is stuck on a ship.
What does your work area look like?
I've been a hybrid worker — partly at Seattle HQ and partly at home — since 2016. Like everyone else at HQ, I worked fully remote for just over two years due to COVID. Now that HQ is open again, I'm back to a hybrid schedule with at least a day or two in the office each week, mostly for meetings. As for my workstation, it's a desk and a computer in both places — kind of what you'd expect.
When you were young, what did you want to do?
I never imagined I'd be doing this, that's for sure! I drove a school bus for 10 years before driving for Weyerhaeuser. When my school bus job was eliminated, my ex-sister-in-law was working for Weyerhaeuser and told me about the shuttle job. It worked out for the best.
What do you like to do when you're not at work?
I love to travel and spend time outdoors. Brad, my husband, and I have a small boat, nothing too fancy. Spending time on the water is one of our favorite things. We both love Hawaii — my brother used to live there — and I especially remember watching our first surfing competition with the huge swells on the north shore of Oahu. But Maui is our go-to island.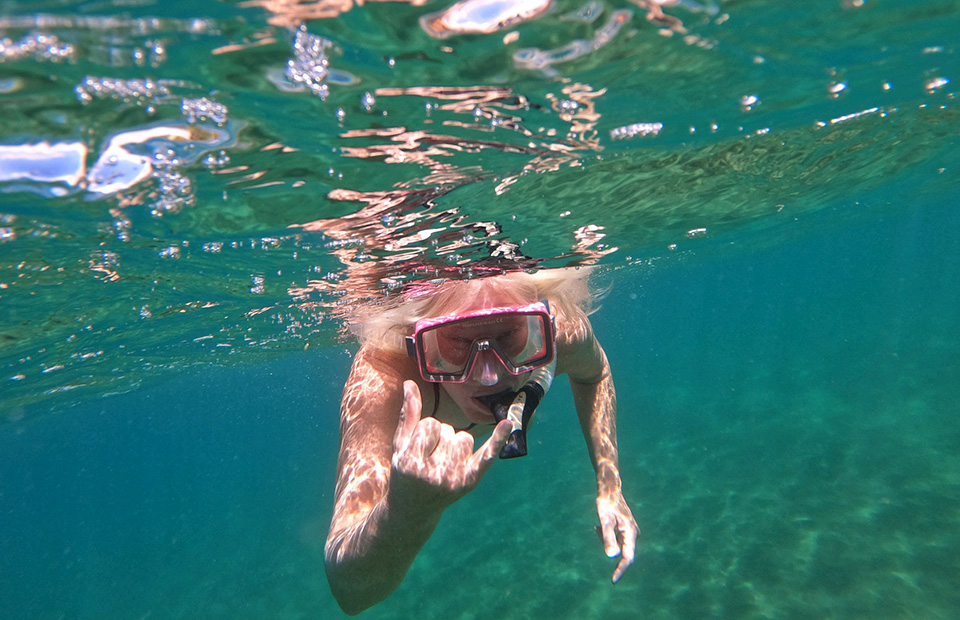 Prudy snorkels in Maui.