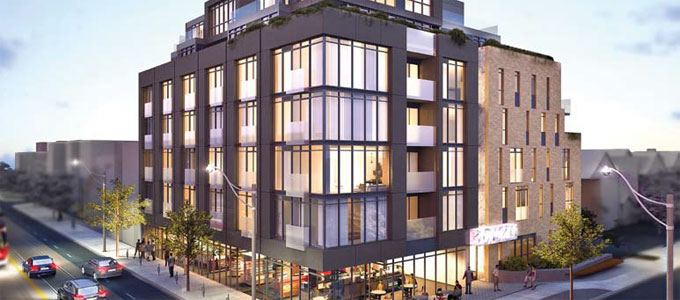 Following the lead previously set in British Columbia, Quebec is the second province to amend its building code to allow for wood-framed construction of five and six storey structures – commonly known as "mid-rise" buildings. The change comes under the "Wood Use" charter with the commitment that all Public Works projects consider a wood solution.
By allowing for wood-framed construction is mid-rise buildings, the industry supports the economic growth and development of the forest industry. In BC, there are now more than 40 mid-rise buildings that have been completed using structural lumber and engineered wood, where previous to 2010, only steel and concrete would have been code-allowed for wall, floor, and roof framing.
In addition to BC and Quebec, the government in Ontario is also considering a similar code change. In the recent publication released by the Building Industry and Land Development Association called "Unlocking the Potential for Mid-rise Buildings, Six Storey Wood Structures," author Paul J. Bedford notes that code changes in Ontario would have impacts including "increased job creation, increased availability of affordable housing . . . and a minimization of the carbon footprint of building construction."
The economic benefits of allowing wood in mid-rise construction are well established. Now Architects and Specifiers within Quebec will have the technical challenge of considering and selecting the optimal products for mid-rise construction for their specified region. Details such as load-stacking and dimensional stability become key considerations with the addition of stories, making engineered lumber a desired choice.
Trus Joist® Engineered Wood Products have emerged as a preferred choice among Builders and Specifiers for many of these projects. A broad selection of engineered lumber products combined with the largest team of technical and sales support associates in Canada, proves Weyerhaeuser as the industry-leading manufacturer for a full-range of project support. Products like the TJI® Joist and TimberStrand® LSL Rim Board address the challenge of dimensional stability – and minimize shrinkage – in these mid-rise buildings, and specifiers use Trus Joist® products Parallam® PSL and Microllam® LVL for beams, headers and columns to manage the higher vertical and lateral loads.