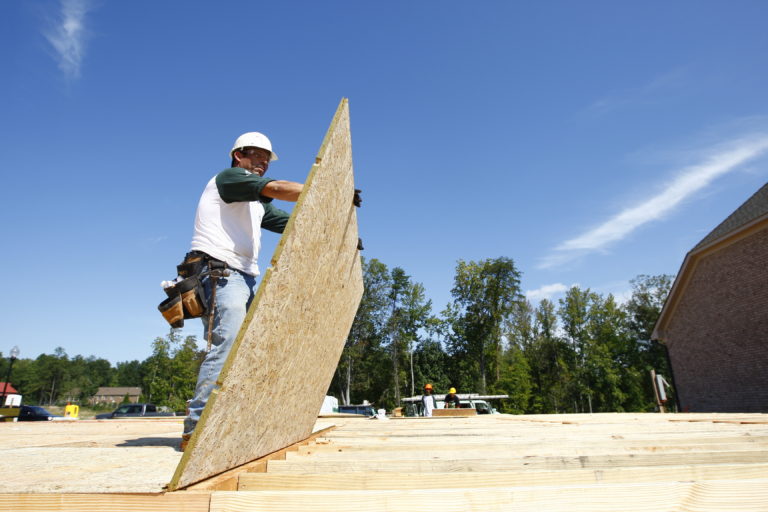 Rain on a jobsite can pose a number of challenges and result in added costs and delays, but what's a builder to do since you can't control the weather? It's generally accepted that for OSB floor panels, excessive exposure to water leads to a less than ideal outcome. Such exposure creates the potential for edge swell and having to sand panel joints flush as well as nail pops or broken screw heads. Rainwater can also delay finish flooring installation or compromise the flooring integrity if not dealt with properly.
I've seen pictures of floors in the Eastern US after a heavy storm with what can only be described as shallow lakes due to water trapped on the floor by the wall plates. For the most part, the panel industry's response has ranged from a "do nothing" approach to tapering panel edges or significantly increasing the non-wood additive components to try to counter the effects of water exposure. Until recently, we were in a similar mindset when one of our R&D teams studying the problem suggested getting the water off the floor quickly instead of trying to design a panel that can survive until a crew arrives the next day, or days later, to drain the lake and start the drying process. That conversation led to our enhanced Edge Gold™ panels with Down Pore™ self-draining technology.
You can read about the product here, as I don't intend to rehash the marketing features and benefits. Instead, I want to focus on why we believe this patented solution is a winning option for anyone building in the Eastern US (current market availability) where even a mild storm can drop a few inches of rain in a hurry.
Solutions that focus only on minimizing edge swell don't account for water absorption in the rest of the panel. Perhaps you don't have to sand joints, but water still penetrates into the microscopic voids in the panel and has potential to hamper finish flooring installations. There's a reason the National Wood Flooring Association and several hardwood flooring manufacturers specify a maximum moisture content for subfloor panels under hardwood along with a maximum differential moisture content between the OSB and hardwood flooring. Increasing the additive materials to fill those voids is an option, but that only slows the rate of water absorption and the increased expense puts the builder in the position of weighing costs vs. benefits. Plus, the builder still has to divert resources to drill drain holes and/or sweep water away.
The concept of drain notches isn't new. While drain notches help channel water off the floor automatically, they have to work in the real world. Notches that plug easily with sawdust and construction debris or rely on idealized installation practices for panel spacing only perform well in laboratory settings.
Our Down Pore technology team kept these and other considerations in mind as they set out to find a better solution. Over the course of several months they built and flooded numerous prototype floors and test houses under various conditions, refining the design each time in pursuit of a self-draining system that worked in real world conditions.
The end result: a drain that works even if sawdust or drywall dust covers the floor; a drain that works even if you forget to gap the panel ends 1/8″ or accidentally smash the tongue and groove joint together (no sledge hammers!); a drain that starts working when the first drops of rain fall and doesn't take time away from your crews to drill drain holes or sweep the water away. Does adding Down Pore technology to our panels cost more? Not for you. We've added this feature to our existing Edge Gold product lineup in the Eastern US at no up-charge.
Are you ready for a Down Pore? If not, we can help. Find your local dealer using our WYFinder tool and ask for Weyerhaeuser Edge Gold panels featuring Down Pore self-draining technology.