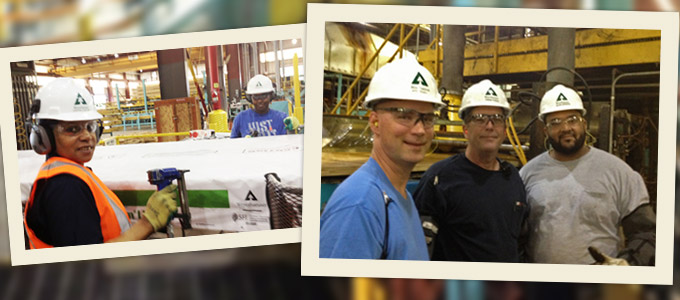 As the housing market continues to recover, Weyerhaeuser is carefully bringing production capacity back online to match its supply with improved customer demand. That's great news for the company, our customers and the communities where we do business.
The development is particularly important for one community in the heart of Alabama's forests. After a five-year hiatus, Weyerhaeuser's Evergreen mill — which makes TJI® Joists and Microllam® laminated veneer lumber — loaded its first truck in early April. The operation expects to ship in earnest by early May.
"There are lots of smiles around here," says Bob Doll, Evergreen's mill manager. "The operation is important to the local economy, and Weyerhaeuser is considered one of the best places to work. We take a lot of pride in getting this operation back up and running."
The work began last August, when Weyerhaeuser announced plans to restart the mill. Doll, former operations manager at the Marshfield, Wis., door plant Weyerhaeuser sold in 2000, was one of the first hires. Other key employees soon followed, including maintenance personnel who would focus on making the plant's systems and machines production-ready.
Doll says the plant was well-maintained during the shutdown. Even so, restarting safely requires careful planning and precise execution.
"You can't just push a button and have the green light go on," Doll says. "When we got here, there was electricity, but no running water and just one computer. Air conditioning was limited to satellite offices, glue lines were scaled, and lubricants had broken down or settled to the bottom in the machines."
Just a few months later, however, the plant showed signs of coming back to life.
"When I got here in December, there were maybe 8 to 10 cars in the lot," says Fred Kuhn, a former mill manager in Longview, Wash., who delayed his retirement to assist with the restart. "By January, the lot was starting to look full."
Kuhn says that leadership's immediate focus was hiring the right people. And while many applied, successful candidates needed to demonstrate a variety of strengths.
"We looked for people who could work together safely as a team," Kuhn says. "In fact, the most important criteria was finding folks with the right safety mindset, who understood how safety always supersedes production."
Encouragingly, returning workers constituted about 65 percent of new hires, an impressive statistic considering the five-year timeframe.
"Many who came back made huge sacrifices over the past four years in order to keep working," Kuhn says. "Some worked as far away as Texas. Others commuted two or three hours to their jobs."
Whether returning Weyerhaeuser employees or new to the company, leaders spent the first several weeks reinforcing Weyerhaeuser's safety and production standards. To do so, some employees went to other mills in the region for training. In other cases, representatives from nearby mills came to Evergreen to lend expertise.
"This and the focus of our associates were the big reasons," Kuhn says, "why we were able to hit the ground running."
And while the team was disappointed when it logged a safety recordable earlier this year — a pinched finger — it has redoubled its focus on starting up safely and chasing perfection.
During this first phase of the startup, the operation will run two presses 24/7 and plans to employ about 111 full-time workers. With two more presses still idle, there's plenty of opportunity for continued growth as the economy improves. But right now, the team's No. 1 priority is to produce product safely, on spec, on time and on budget.
"I've never seen a more engaged workforce," Kuhn says, "eager to rebuild processes and procedures from the ground up so we can be a top performer well into the future."