Our Distribution business celebrates its 100th anniversary this year, and business leaders say there's one key reason for its longevity: a relentless focus on serving customers' evolving needs over the years.
"The anniversary is a testament to all our people over the course of the century," says Brian Chaney, vice president of EWP and Distribution. "Our dedicated, passionate team works hard every day to deliver on our promises to customers while also anticipating their future needs."
GROWING EAST
Distribution's 100-year journey started in 1921, when Weyerhaeuser opened our first distribution center in Baltimore, Maryland. It was a time of growth for the company and the U.S. as a whole thanks to the post-World War I economic boom.
At the time, Weyerhaeuser was still a primarily West Coast business, though we'd purchased several lumber wholesale and retail yards in the Midwest in 1915. A few years later, we formed a dedicated sales force for the first time. Opening the Baltimore Yard enabled the company to take advantage of the newly opened Panama Canal and its more economical shipping routes — especially when the Weyerhaeuser Steamship Company was created shortly after the Baltimore Yard opened.
Builders in the northeastern U.S. were especially keen on our Douglas-fir, which enjoyed a reputation of being clean, straight and warp resistant.
"At one point, the Baltimore distribution center was known as Weyerhaeuser's eastern forests," Brian says. "It sold as much as 40 percent of the lumber produced by our mill in Everett, Washington."
That original Baltimore location was closed as part of a strategic repositioning of Distribution sites across the country in 2015, but its legacy of service, value and growth lives on in today's 18 distribution centers. They cover 75 percent of the top homebuilding metro markets in the U.S. and are strategically located to track emerging home-building trends, including new building techniques, code changes and evolving consumer preferences. But first and foremost, Distribution's mission is to serve building material dealers and suppliers.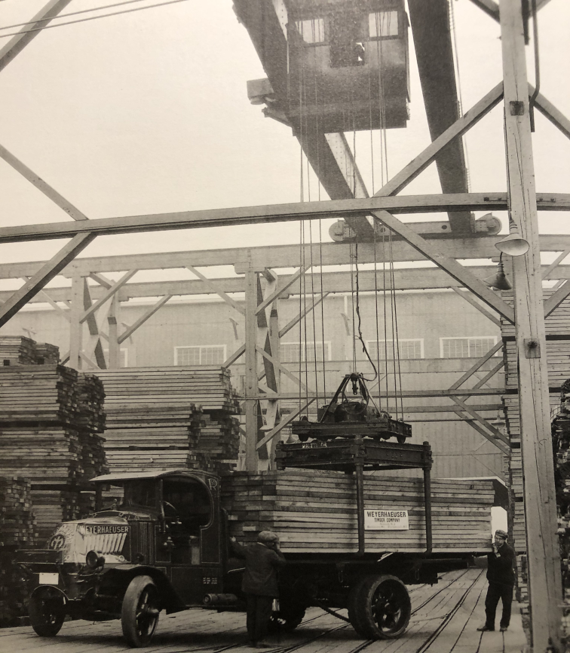 A truck is loaded at our first distribution center in Baltimore in the late 1920s. From the beginning, delivering orders on time and in full was — and continues to be — critical in building trust and loyalty among customers.
LIVING THE MISSION
One of those dealers is Franklin Building Supply in Boise, Idaho. Franklin was one of the very first dealers to carry Trus Joist® products in the 1970s. (Interestingly, one of Franklin's millworks shops is now housed in a former Trus Joist plant.)
"Franklin and Weyerhaeuser have built a two-way relationship based on trust," says James Dowen, Franklin's vice president of purchasing and vendor relations. "Sometimes buyer-supplier dynamics can come down to gamesmanship, one trying to outdo the other. But in our relationship with Weyerhaeuser, we're both focused on the long term and the big picture."
Every day, our Wood Products sales teams work with Franklin reps to identify in-market growth opportunities with new or lapsed builder customers.
"Price is important," James says. "But Weyerhaeuser adds value by looking beyond the transactions, which is something we aim to do for our own customers."
Franklin's promise to customers is uncompromising. On its website homepage the company promises, "We make building easy," and "You have enough problems. We're not going to be one of them."
To this end, James says Franklin expects impeccable service from all suppliers, including Weyerhaeuser.
"Service is the starting point and foundation of our vendor relationships," he says. "It's where trust begins and often ends. A lot of companies claim their service is dependable, but they don't all deliver."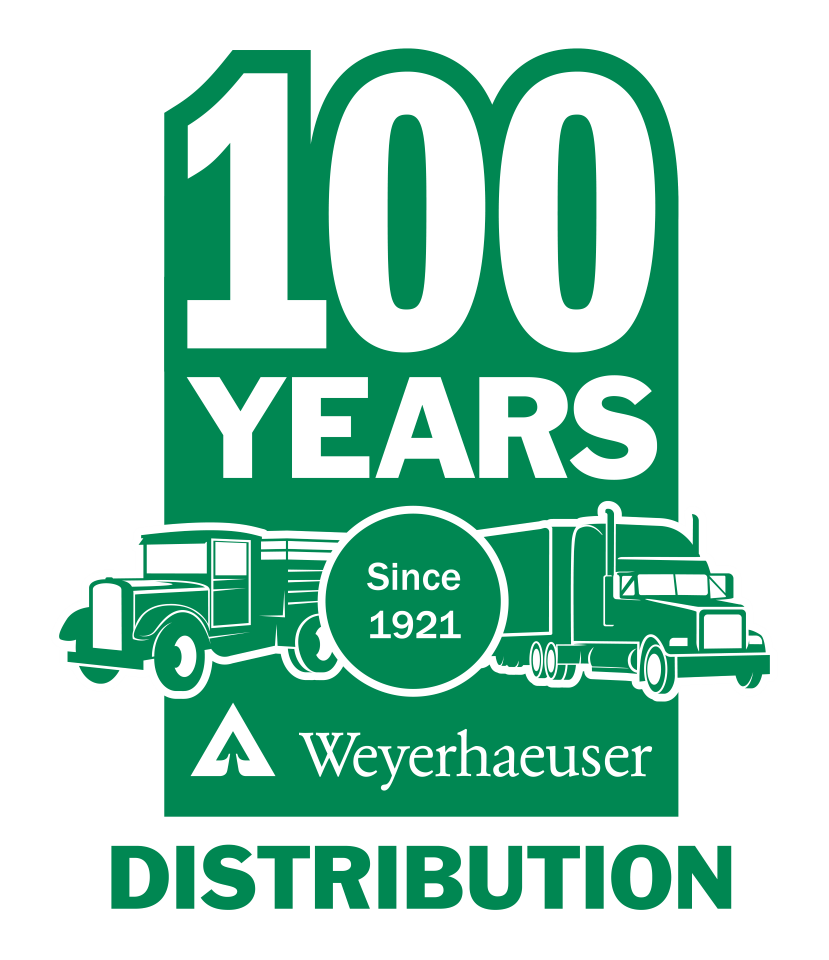 PEOPLE, PROCESS, PERFORMANCE
Most Distribution customers, including Franklin, expect next-day order delivery.
"We're under a lot of pressure to perform without a glitch," says Brad Brubaker, a 35-year Distribution veteran who's headed multiple sites over the years and currently leads our distribution center in Salt Lake City. "But I'm confident our people, processes and systems are better than ever."
In recent years, the business has honed its performance through OpX initiatives, Lean process re-engineering and investments in people development and technology.
Product availability and order pricing are determined by information systems that assess near-real-time supply and demand. Barcoding, radio-frequency tagging and other inventory-control technologies have replaced time-consuming physical counts that once shut sites down for days. And process discipline has reduced the time it takes to ready orders and load trucks.
"When I started in the mid-'80s, we had one of those pneumatic tubes, like you still see at banks, to send orders from the office to the warehouse," Brad says. "We kept our pricing information in a huge three-ring binder that didn't get updated too often, and special deals for certain customers were handwritten on the pricing sheets."
That's all changed, benefitting both our customers and our bottom line. Between 2011 and 2020, Distribution swung from a loss of $45 million to a profit of more than $85 million.
"Internal process discipline and continuous improvement is a two-pronged benefit," Brad says. "It improves our financials while allowing us to better serve customers."
Information systems and processes such as just-in-time fulfillment and replenishment allow our Distribution sites to carry leaner inventory levels of an item and replenish more effectively when we run low. As a result, the business uses cash more effectively.
In turn, this freed capital allows our distribution centers to carry a wider variety of third-party specialty building products than ever before, alongside our own manufactured products. This unique mix of Weyerhaeuser and third-party products — some 30,000+ stock-keeping units or SKUs — positions our sites as one-stop shopping resources for customers.
"Our goal is to be the distributor of choice among our customers, with a value-added focus that helps them grow their business and serve their builder-customers more effectively," Brian says. "We've adapted and evolved for a century, and I believe the best is yet to come."