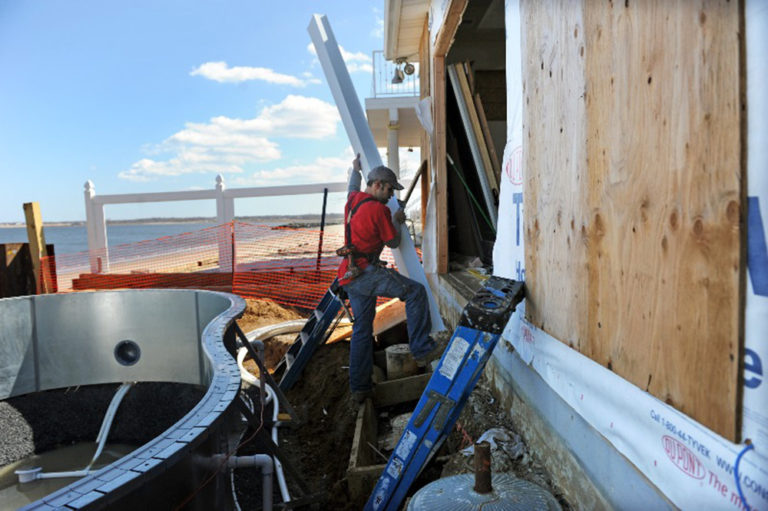 As part of long-term rebuilding efforts in the hurricane-ravaged Eastern Seaboard and Louisiana, World Vision is assisting families and communities hit by past year's devastating hurricanes Sandy and Isaac, supported by more than $130,000 in building materials donated by Weyerhaeuser.
"While tornado survivors in Oklahoma are in the relief phase and are currently receiving basic relief supplies, we cannot forget the families devastated by the hurricanes of 2012," said Rick Miltimore, domestic relief director for World Vision. "Those communities are in desperate need of ongoing rebuilding efforts, where we provide on-the-ground partners with building materials such as insulation, roofing and faucets, to help families rebuild their homes, their lives."
Last week, forecasters predicted an "extremely active" hurricane season this year, and organizations like World Vision are planning for quick response, with pre-positioned supplies of tarps, water, clean up kits, hygiene and food kits in key sites across the U.S. In addition, donations of desperately needed building materials from partner corporations are critical as disaster areas move from first response into longer-term rebuilding phases.
Weyerhaeuser donated three truckloads of lumber and eight truckloads of OSB for flooring and roofing this spring; the building materials are arriving at World Vision sites across the country this week. In New York, New Jersey and Louisiana, World Vision is working with local community partners, as crews load smaller trucks with house packs, each with enough OSB, lumber, siding, roofing and insulation to rebuild a 1,900 square foot home.
"We are grateful for the strong and growing partnership with Weyerhaeuser," said Jennifer Hawley, senior director for corporate engagement at World Vision. "We remain committed to working together to provide essential building materials to those in need in the aftermath of disasters, and ultimately, to our mission of tackling poverty here in the U.S."
"At Weyerhaeuser, we are proud to contribute building materials that we manufacture and distribute to those in need," said Larry Burrows, senior vice president, Wood Products. "This is one of many shining examples of our employees seeing a need, and connecting with the communities where we live and work. We are delighted to deepen our relationship with World Vision, an organization with the credibility, footprint and logistics capabilities to get our wood products to local community partners supporting the rebuilding."
World Vision's Storehouse network is comprised of six warehouses across the U.S. that receives corporate donations of new, top-quality goods made available to local community partners for distribution. Goods that are distributed include building materials, school supplies, personal care items, and clothing to over 2.2 million people in low-income communities annually.