Fiber Sourcing & Chain of Custody
A sustainable supply chain
Managing our own forests sustainably is the first step in a responsible supply chain. But we don't just use our own wood fiber to make our products — and neither do the other companies that make products from trees.
Wood baskets (the term we use to describe the sources of wood supplying a mill) are made up of many landowners and forest types. Whether certified or not, it's important to us and our customers that all of the wood used to make our products comes from legal, responsible and non-controversial sources. That's exactly what our fiber sourcing certification does.
Hand in hand with fiber sourcing, our chain of custody certification enables us to track certified fiber through production and communicate to our customers the percentage of certified content in the products we sell to them. Just like our forest management certification, our fiber sourcing and chain of custody certifications are verified by third-party auditors.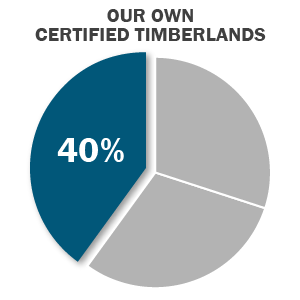 More than 40 percent of our wood supply, in the form of logs and wood chips, comes from our own certified timberlands.
Close to 30 percent of our wood fiber comes from other certified forests -- some from large landowners like us, lots from family landowners, and some from in between.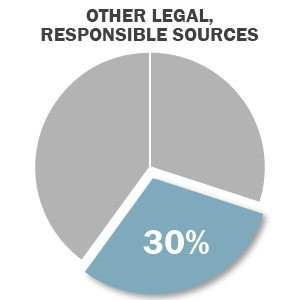 The remaining 30 percent of our wood supply comes from other legal, responsible sources. Most of this is supplied from small, family-owned forests.
FIBER SOURCING
Our entire wood fiber supply chain, all of the wood we grow and purchase, is certified to the SFI Fiber Sourcing standard. This certification lets our customers rest at night, knowing our products are from responsible, legal and non-controversial sources. We communicate this to our customers by using the "SFI Certified Sourcing" label on our products.
As part of this certification, we are required to show we:
Avoid sourcing wood fiber from controversial sources like illegal logging or areas without effective social laws.
Engage in outreach and education with forest owners on sustainable forestry and best management practices.
Support scientific research to broaden the awareness of climate change impacts on forests, wildlife and biological diversity.
Use and support best management practices to protect water quality.
Encourage landowners to use qualified logging and resource professionals.
Learn more about the Fiber Sourcing Standard on the SFI website and look for the SFI label the next time you are buying wood products.

To encourage forest certification and to support more family forest owners on their journey of responsible, sustainable forest management, we have a purchasing preference for wood certified under the American Tree Farm System.
---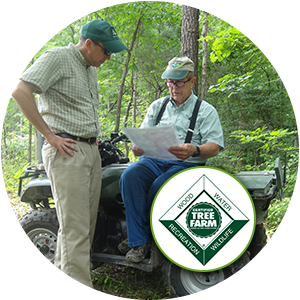 LIVING OUR VALUES
Supporting the American Tree Farm System and family forests
The American Tree Farm System plays an important role in helping our manufacturing operations ensure the wood they use from other land owners is sustainably sourced.
Now in its 76th year, ATFS is the largest and oldest forest certification system in America with operations in 42 states. This forest certification system also promotes responsible forest stewardship by serving those with smaller holdings of 10 to 10,000 acres.
Family landowners face many of the same issues as larger landowners, but have fewer resources at their disposal due to their limited budgets. ATFS fills those gaps by offering workshops, educational tours, conferences and trained inspectors through which landowners can learn about habitat preservation for wildlife and how to grow and harvest wood sustainably.
To support this effort, Weyerhaeuser contributes financially to the program. Dozens of Weyerhaeuser employees across the country also volunteer with ATFS and participate in their various programs to share their expertise. Currently, Weyerhaeuser is supporting ATFS work on their database integrity and landscape management plans.
CHAIN-OF-CUSTODY
While all of the wood fiber at our manufacturing facilities comes from responsible sources, not all of it is from a certified forest. Chain of custody is an accounting system that tracks certified wood fiber through the different stages of production. It allows us to tell our customers (some who might be making their own products with our wood or residuals) the percentage of wood from certified forests. This gives them the ability to make claim statements about their products, such as a product being made from fiber from certified forests, so they can communicate that to their customers. Simply, chain of custody tracks the amount of certified fiber from the forest to the product.
Our senior management team is committed to implementing chain of custody at selected sites and, while those sites are certified, maintaining chain-of-custody requirements in accordance with applicable standards. Learn more about the SFI Chain-of-Custody program and view our certificates.
ENCOURAGING LEGALLY SOURCED WOOD
It is our longstanding policy and practice to ensure we and our fiber suppliers comply with all laws and that our procurement practices do not cause or encourage the destruction of forest areas at risk of loss due to illegal and unsustainable forest management practices.
We do not knowingly purchase or use wood, wood fiber or products for distribution that originate from illegal logging. We conduct a due-diligence assessment and document the species and country of origin of our products on our Product Environmental Profiles. Our responsible fiber sourcing practices are guided by our Wood Procurement Policy.
We also maintain compliance with domestic and international laws related to the use of illegal timber, including the Lacey Act in the United States and the European Timber Regulation. The Lacey Act, amended in 2008, combats global trafficking in illegally taken wildlife, fish and plants, as well as illegally sourced wood and wood products. The European Timber Regulation was adopted by the European Union in 2013 and, like the Lacey Act, makes it unlawful to trade in wood from illegal sources.
---