Public Policy
We participate in the political process to help shape policy and legislation that directly affect our company. Our engagement is tied to our business strategies and is an important way to maintain our license to operate. Our ethical and transparent involvement includes coalition and relationship building, advocacy, political contributions and grassroots activities.
COMPANY ACTIVITIES
Our involvement in the political process reflects our company's interests and not those of individual officers or directors. Public policy and legislative priorities are reviewed annually with senior business leaders and our Governance and Corporate Responsibility Committee of the board of directors.
Current issues of importance to us include:
Taxation of timberlands in the United States
Softwood lumber trade between the United States and Canada
Recognition for all credible forest certification standards
Mass timber construction
Conservation benefits of forest management
Energy policy, including the role of biomass in renewable energy policies
Climate policy, including impacts on manufacturing costs and positive recognition of sequestered carbon in forests and forests products
Clean air and water policies, including impacts on manufacturing processes and forest management activities
Green building programs, standards and recognition for the sustainable attributes of wood and forest products
Conservation of, and access to, the boreal forest and protection of caribou in Canada
To advocate our positions, we rely on government affairs professionals, assisted by business managers and subject-matter experts. We follow both the letter and the spirit of the laws governing lobbying. Our managers receive regular training on current law and practices, and we work fairly and honestly with public officials at all levels. We are members of over 125 local, regional, provincial and national associations. Some of our main associations (see GRI Index 102-13) also advocate on these and other issues.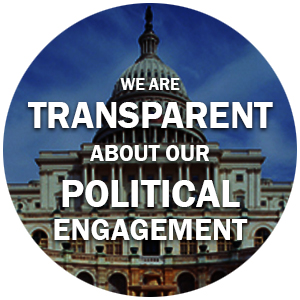 We encourage employees to exercise their right to vote and participate in lawful political activities.

Our employees must comply with all laws, regulations and company policies regarding gifts and entertainment for government officials.
EMPLOYEE ACTIVITIES
Our employees may communicate personal opinions to government officials, but they may not use company stationery, the Weyerhaeuser name, work titles or other company resources to express personal opinions to government officials or to promote candidates. Our employees may not offer, promise or give anything of value to any government official, employee, agent or other intermediary (either domestically or internationally) to influence the exercise of government duties.
Occasionally, we may offer employees an opportunity to communicate with public officials on issues important to the company. No pressure in any form may be directed toward employees to make personal political contributions or to support or oppose ballot measures, political parties or the candidacy of any person.

POLITICAL CONTRIBUTIONS
Political contributions reflect one dimension of participation in the political process. Our political contributions are managed by our public affairs team under a general delegation of authority from our general counsel. All laws and regulations regarding in-kind contributions, use of corporate facilities and resources, independent expenditures and gifts are stringently followed. No contribution may be given in anticipation of, or in return for, an official act.
We disclose all transactions in our annual report of company political donations. We generally do not contribute to political 527 or 501(c)(4) organizations but will disclose this information in our report if we do. Our company's political contributions are regularly reviewed to ensure they meet our Political and Government Affairs Policy and are reviewed annually with senior business leaders and our Governance and Corporate Responsibility Committee.
United States
Some states allow companies to contribute directly to campaigns for state and local offices and for ballot measures. We file these contributions as required at state and local levels. In 2017, Weyerhaeuser Company and our subsidiaries based in the U.S. donated $203,600 in the following states (search "Weyerhaeuser" on the following government websites): Florida, Georgia, Louisiana, Mississippi, Montana, Oregon, and Washington.
We also sponsor a U.S. Weyerhaeuser Political Action Committee (WPAC), which solicits voluntary contributions from eligible shareholders, employees and our company board of directors. Decisions regarding contributions are controlled by an employee-based board of trustees and advisers that is chaired by our CEO. These contributions are bipartisan and based on a variety of considerations. WPAC contribution reports are filed with the Federal Elections Commission and we provide a summary in our annual report of WPAC political donations. In 2017, our WPAC donated $201,000 to federal candidates, committees and some state candidates.
Canada
Canadian donations are made only at the federal and provincial levels of government. They are publicly disclosed per reporting requirements in each jurisdiction where we operate as well as in our annual report on Canadian political donations. In 2017, Weyerhaeuser Company Limited, our Canadian subsidiary, donated CA$6,995 to political parties or candidates in Canada.
ARCHIVE
Political donations 2013 - 2017