Our Story
Working together to be the world's premier timber, land, and forest products company
Weyerhaeuser is one of the world's largest timber, land and forest products companies. We employ thousands of people in businesses that grow, harvest and sell trees, make a range of forest products essential to everyday life, and steward our land to maximize the value of every acre.
We are proud managers of a remarkable, renewable resource — forests — that, when managed well, can provide jobs, products, renewable energy, recreation and environmental benefits for many generations to come.
Our value chain is quite simple.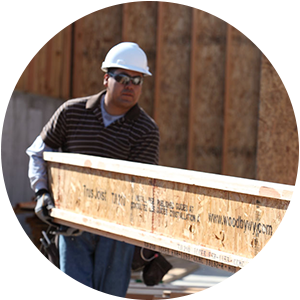 MORE THAN A CENTURY OF EXPERTISE
Our expert tree-planting crews ensure our seedlings are planted correctly and given the best possible chance for survival. Over the last decade, we've planted more than 1 billion tree seedlings. Last year alone, we planted 156 million seedlings on our timberlands. Our decades of investment in seed selection and seedling growing make us a leader in this field.
SUSTAINABLE FOREST MANAGEMENT
In the United States, we own and manage over 12 million acres of some of the most productive and sustainable timberlands in 20 states. In Canada, we manage timberlands under long-term licenses to provide wood fiber to our manufacturing facilities. Read more about our approach to sustainable forestry.
Our timberlands are certified to the Sustainable Forestry Initiative® Forest Management standard.
RESPONSIBLY-SOURCED WOOD
By far, the largest and most critical link in our supply chain is raw wood fiber (in the form of logs and wood chips). The wood we grow on our own timberlands is sold directly to our wood products mills or to customers all over the world. Read about where our logs go in our Annual Report.
We also buy wood from other landowners. We hire qualified logging professionals when harvesting our timberlands and require other forest landowners from whom we buy wood to do the same.
Our commitment to responsible fiber sourcing is supported by our Wood Procurement Policy and verified through our certification to the SFI® Fiber Sourcing standard, which ensures the wood fiber in our supply chain comes from legal and responsible sources, whether the forests are certified or not. Read more about how we promote sustainable forest management with all of our wood suppliers and more about our certification programs.
WE CREATE USEFUL PRODUCTS AND SERVICES
Our company makes useful products for society, essential to everyday life. Our lumber and engineered wood products are used to build homes where people raise their families and commercial buildings where communities thrive. The parts of the tree that are too small to turn into building products, we supply into the important hygiene, paper, packaging and energy markets.
Our manufacturing facilities produce more than 70 percent of their own energy with renewable biomass. We rely heavily on transportation and logistics providers to efficiently move our raw material and our finished products from our forests to our mills and to our customers.
In addition to forest management, we responsibly deliver the most value from every acre — in some cases, providing recreation access, energy production and conservation.
YOU MAY ALSO BE INTERESTED IN: