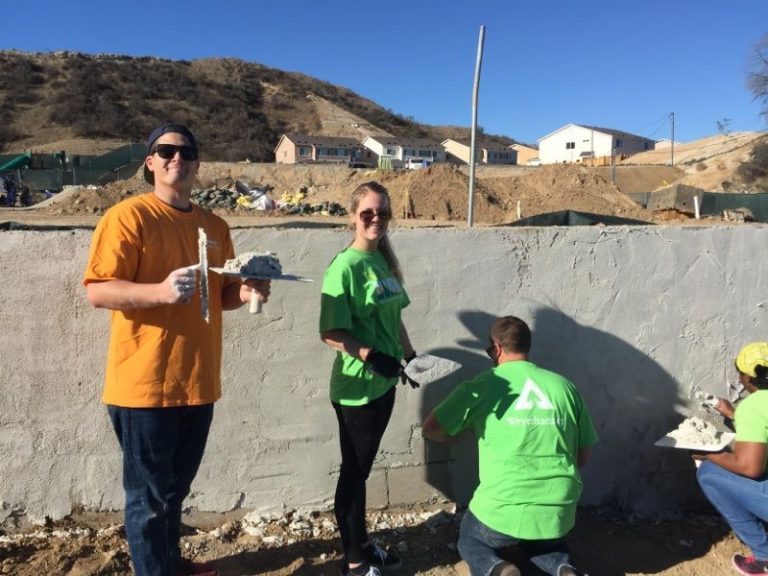 From hosting a Sheep Pasture Golf Tournament to helping with city beautification projects to donating handmade items, employees at Weyerhaeuser Distribution centers were involved in a wide array of unique programs in 2016 to support their local communities.
"Employees at our 17 distribution centers across the country really 'stepped up' their local community involvement in 2016," says David Helmers, vice president of Weyerhaeuser Distribution. "They donated their time and talents to programs that struck close to their hearts and their neighborhoods. We see this type of deep commitment year-after-year as our employees unselfishly give back to their communities."
Local Volunteerism Efforts
At Hannen Farm in Sweet Creek, Oregon, $4,700 was raised for the American Cancer Society during the fourth annual Sheep Pasture Relay for Life Golf Tournament. Weyerhaeuser employees helped coordinate and participate in the June event that had people trooping up and down rolling hills — and through sheep pastures — to compete in the 18-hole charity game.
Weyerhaeuser employees working at the company's distribution center in Dallas don't have to worry if they have a sudden craving for a snack because Mae's Market is open for business. Mae Mengistu, an administrative assistant at the distribution center started the program after fellow associate Chi Ly came up with the idea of selling snacks at beat-the-vending-machine-prices. They purchase bulk snack items and sell them to fellow employees at a reasonable price in "Mae's Market." To date, hundreds of dollars in profits have been donated to Metrocrest Services, a local charity providing assistance to people in crisis throughout the Dallas area.
Handmade hats, scarves and blankets are helping needy children stay warmer throughout Denver thanks to the Christmas Crusade for Children. Weyerhaeuser inside sales representative Brenda Long started the program and crocheted many of the items. Fellow coworkers had a team shopping spree to gather winter essentials for the children's program.
In Salt Lake City, employees from the Weyerhaeuser Distribution Center volunteered their time to planting trees with the idea to improve the curb appeal of a local community. Volunteer actions were also flowing in southern California as workers took time to build homes for a Habitat for Humanity community for veterans, while in northern California employees worked in a community garden.
Members of the Atlanta Weyerhaeuser team helped pack holiday food boxes and arrange toys for needy families by working with the North Gwinnett Co-Op. Half way across the country, cold weather spurred on the Houston Weyerhaeuser Distribution Center team to conduct a donation drive for new and gently-used coats and blankets for the Star of Hope Donation and Distribution Center. The center helps approximately 1,000 homeless men, women and children at their mission centers daily.