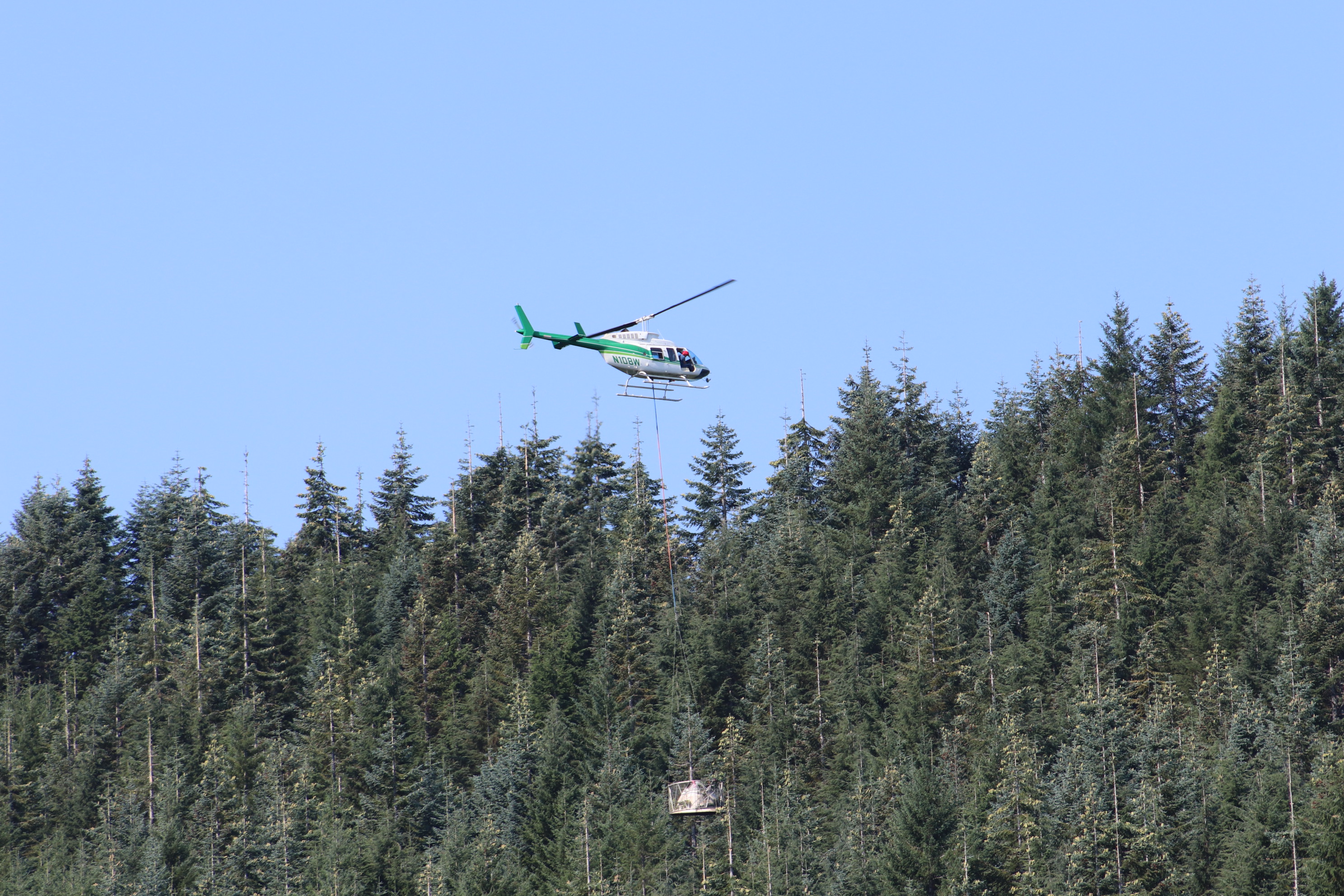 A Weyerhaeuser helicopter carries a cone collection device on a tethered line. This was the first time our aviation team was involved in a noble fir cone harvest, which provided cost and knowledge-retention benefits.
High in Oregon's Coastal Range this September, not too far from Dallas, a company helicopter hovered over a mature noble fir. A conical-shaped basket and cutting tool, which looked like an upside-down paper cup, dangled from the end of a long tether. The device was lowered onto the fir's crown and cut away its cone-laden upper branches.
The pilot repeated the task multiple times over the next several days. By the time the aerial work was done, the helicopter had collected more than 1,800 bushels of noble fir cones, and members of our Regeneration team had gathered another 1,400 bushels from the ground. Each bushel of cones contains nearly 1.7 pounds of seeds, with approximately 13,000 seeds per pound — all told, an extremely valuable harvest.
Over the next decade or so, we'll plant those seeds in our nurseries in Washington and Oregon. After a year or two, some of the resulting seedlings will be planted at high elevations — where the noble tends to thrive — following harvest on our Western tree farms. But most will be sold as one- or two-year-old seedlings to commercial and family-owned Christmas tree farms, where they'll grow for another seven to 10 years.
"The noble fir is a highly desired Christmas tree native to the Pacific Northwest," says Anya Hall, seedling sales professional at our nursery in Turner, Oregon. "It's prized for its sturdy branch structure, needle retention and deep blue-green color."
About a quarter of the 40 million seedlings grown annually in our Pacific Northwest nurseries are for Christmas tree production, and noble firs are especially sought after by our Christmas tree farm customers.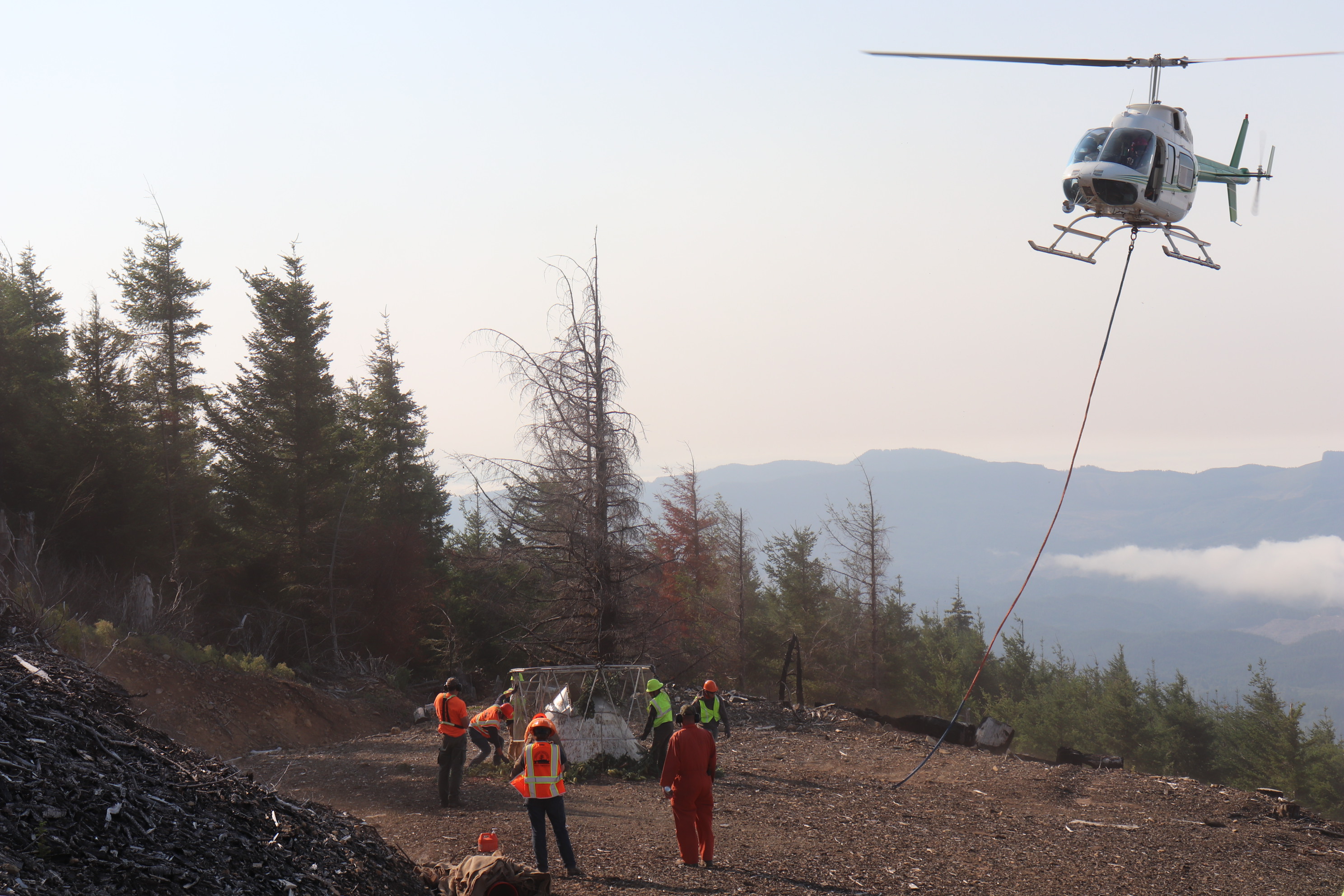 Weyerhaeuser aviation drops collected noble fir cones in a designated landing zone.
A BUMPER YEAR
Harvesting enough seeds to support the demand for noble fir seedlings is largely dependent on weather and luck. Like most evergreens, the noble fir produces cones in two-year cycles. Cone buds form during the first year, and cones grow and mature during the second year. Cone production varies significantly from year to year.
"Peak years don't come along often," says Tim Tompkins, a forester with our Oregon Mid-Coast team, where we have a large population of noble firs. "So we're eager to collect the cones when they do."
The previous peaks were in 2001 and 2017. Bumper years tend to occur after the trees experience stress — and 2021's scorching, dry weather, even at high elevations, was an unusually stressful year.
In addition to stress the first year, conditions in year two must be optimal for pollination. That typically means more seasonable weather conditions, especially in terms of heat and humidity levels. At the same time, the populations of insects that feast on the seeds must be low.
"We knew 2022 would be prime for a cone harvest," Tim says. "We gathered cone samples in August and found well-developed seeds. From there, our Timberlands, Regeneration and Aviation teams started working out the details for the harvest."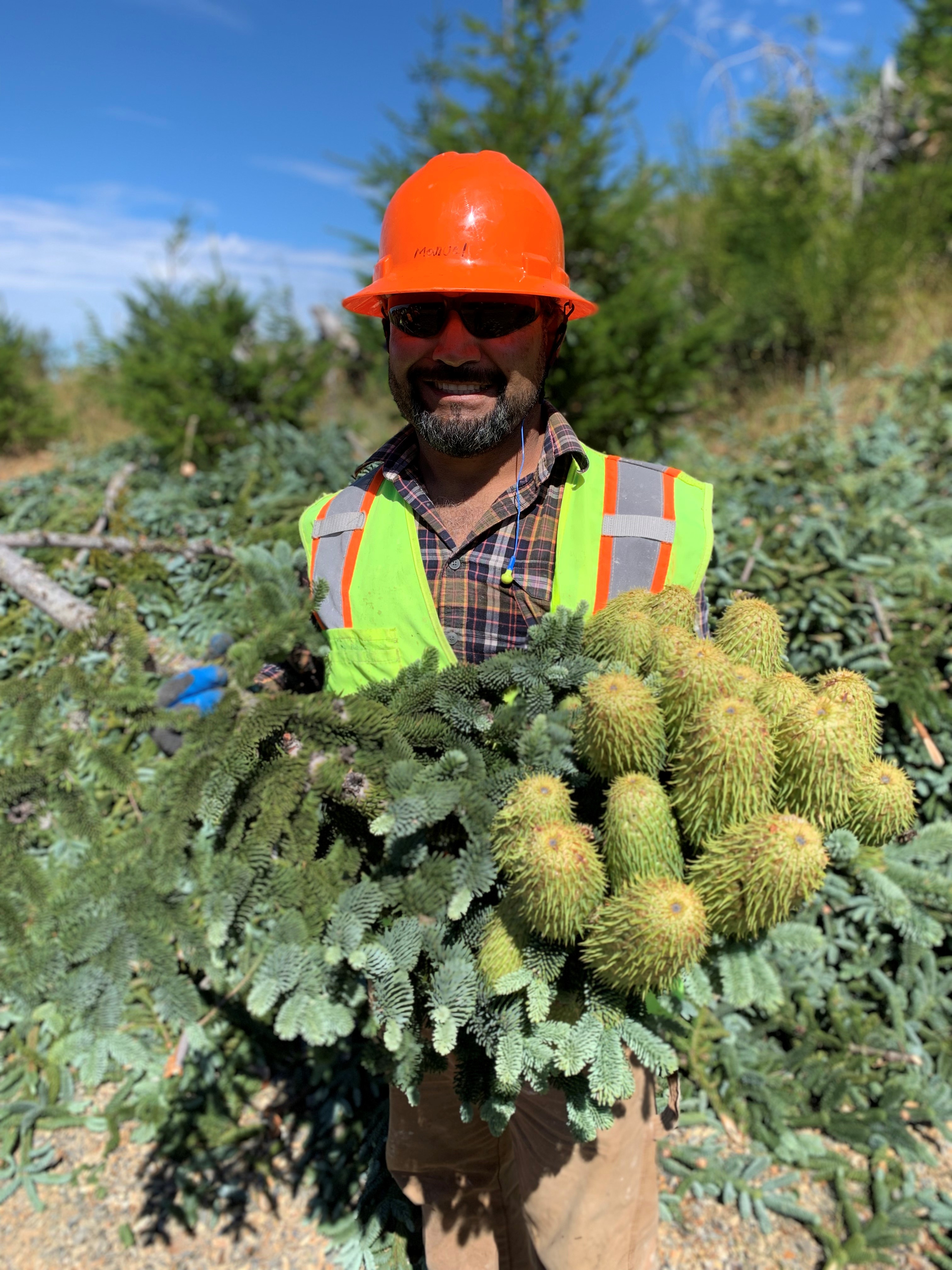 Manuel Siordia Perez, a team member at our Turner regeneration center, holds a bouquet of noble fir cones. Over the course of about three weeks in September, Manuel and around 20 other team members collected more than 3,000 bushels of cones.
A FIRST FOR WY AVIATION
The cone harvest was a first for our Aviation team. In past years, cone collection was hired out to contractor helicopter crews.
"We run long lines with buckets all the time for fire suppression," says Michael Stephens, who leads our Aviation team. "It's not just one of our capabilities, it's a core competency for our pilots. And our job safety analyses covered this type of activity."
As soon as Timberlands found well-developed seeds in August, the Aviation team developed specific procedures for cone harvests, including in-the-clear safety protocols for ground crews and a customized training program for pilots.
"We hadn't yet leased a harvester, so we hooked an empty water bucket on a long line and had the pilots fly to the trees, lower the bucket next to the treetops and hover for stability. Then we worked on smooth translational lifts as we increased power."
Once harvest time arrived, Michael, a pilot himself, decided to fly first before asking his team's two other pilots to fly with the harvester.
"The flying was straightforward, but we brought the entire Aviation team, including our three mechanics, up there the first few days to evaluate any unanticipated challenges and identify continuous improvement opportunities," he says. "And we got better and better."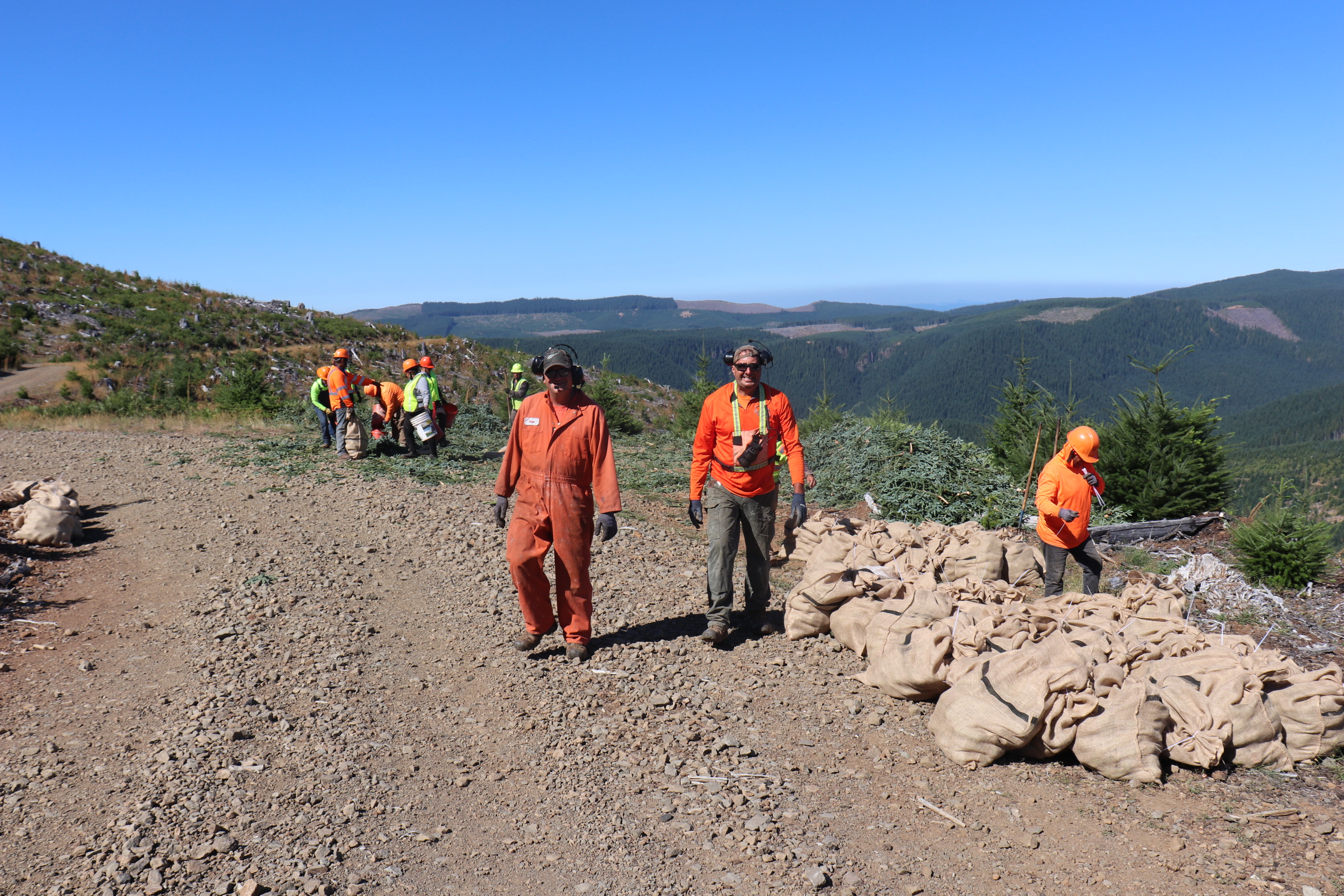 Regeneration, Aviation and Timberlands team members pack cones into bags on a landing site at our Mid-Coast tree farm in Oregon.
CAPTURING BEST PRACTICES
Tapping our internal aviation assets saved money and improved efficiency, but Michael says the most significant benefit was the team's alignment with our safety value.
"Safety is always our top focus," he says. "We use an approach called team flying, where everyone involved in a project, including the folks on the ground, are part of our crew and involved in our decisions."
That team effort also included James Benson, a test coordinator for our Tree Improvement team, who had assisted with previous noble fir cone harvests.
"Since cone harvests are so infrequent, one of the challenges we identified early on was a lack of knowledge continuity," James says. "We did a lot of prework to identify what we did and didn't know, how to learn onsite and how to manage change to improve safety and efficiency."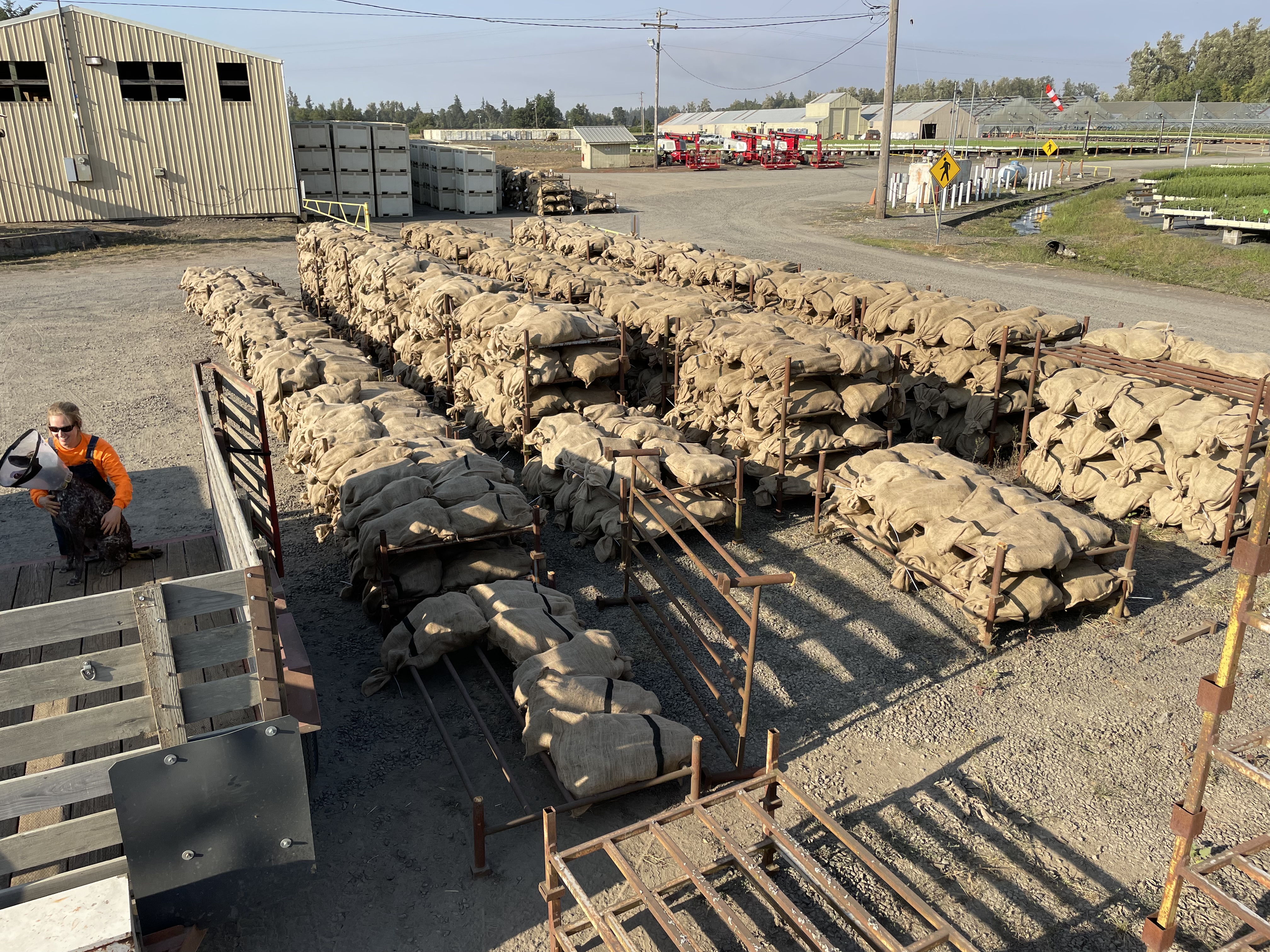 Bags of noble fir cones await processing at our regeneration facility in Turner, Oregon. Noble fir seeds will be collected from the cones and used to grow seedlings that will be planted on high-elevation sites or sold to commercial Christmas tree growers.
The due diligence proved effective. There were no recordable safety incidents over the more than two weeks of highly specialized work, and the team compiled a list of lessons learned and best practices for future harvests.
James, who has experience hauling trailers hitched to his pickup, also volunteered to transport the cones out of the woods and back to Turner. Currently, they're at our seed plant in Rochester, Washington, for processing. Once the seeds are extracted, they'll be stored at subzero temperatures and then used to meet the needs of our internal and external customers for years to come.
"We likely have enough seeds for the next several years," James says. "And now we're ready to take advantage of the next bumper crop of noble fir cones whenever that might happen."