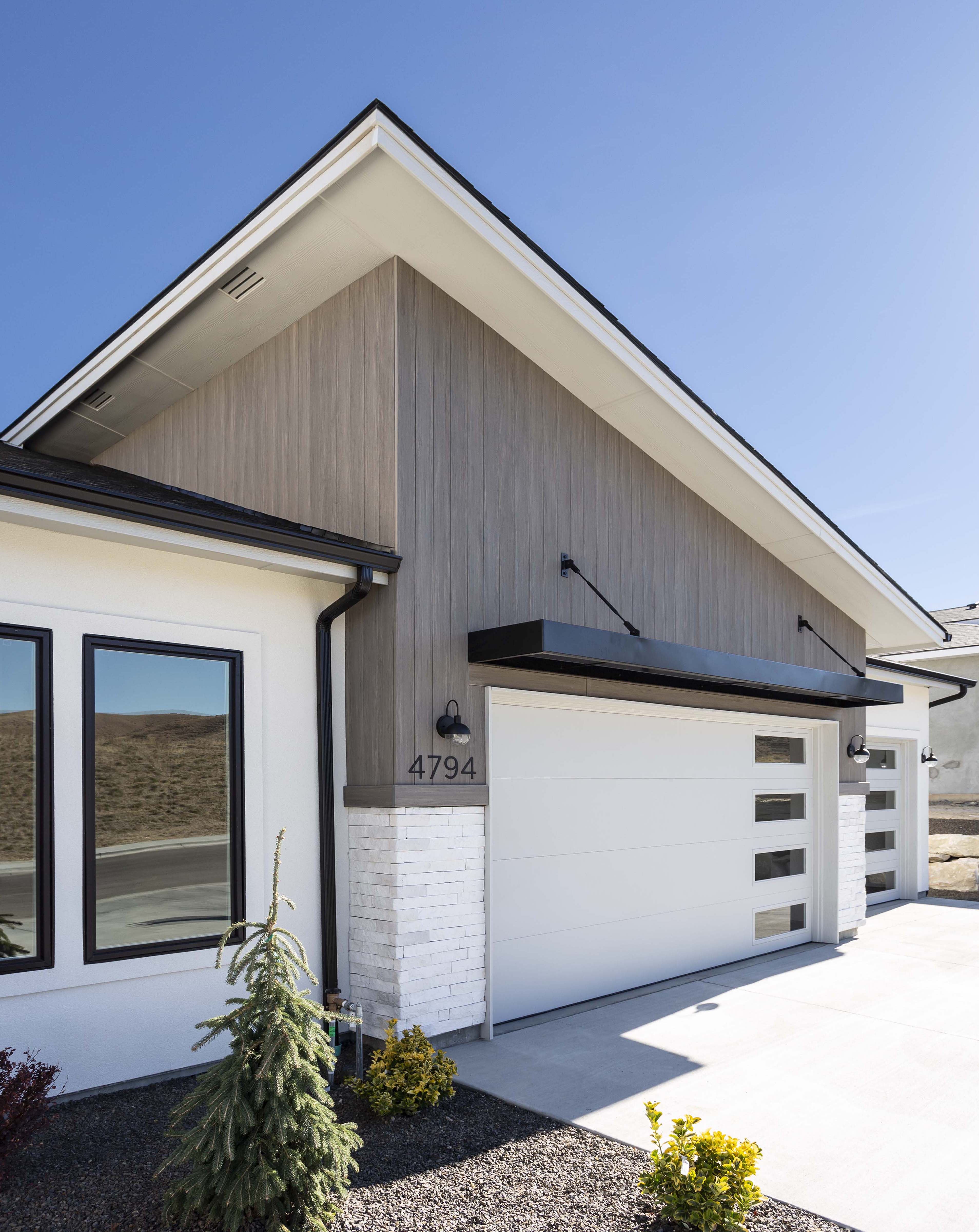 One of the up-and-coming trends of the moment is cladding made with PVC or composite decking. Decking in this application is often installed as "open joint cladding" with wider spacing up to ¾" to create a strong, linear design pattern for a more modern look that is increasingly popular with designers and architects. Alternatively, "closed-joint" decking-as-cladding applications allow for a more subtle look with traditional spacing.
Whether closed-joint or open-joint, the material delivers the look of sought-after exotic hardwoods like ipe, garapo, or cypress without the maintenance requirements. While whites and grays are trendy for exteriors, many homeowners are drawn to the warmth of wood, for the entire façade or accent areas.
Installing Open-Joint Cladding
At about 30% lighter than capped composite, TimberTech® Advanced PVC Cladding is highly workable and easy to install. It installs similarly to wood, using traditional face-fastening techniques. Installers can use Cortex® for Composite hidden fasteners, which include plugs made from the same material to achieve a seamless appearance.
When used as cladding, TimberTech deck boards should be installed over a rainscreen to ensure an adequate drainage plane for moisture to escape. Open-joint cladding should use a black housewrap to preserve the aesthetic of shadow lines; due to the increased exposure from the open joints, UV-resistant housewrap should be chosen.
Open joint cladding is the most talked about look of the moment, with spacing of up to ¾" between boards. But for projects desiring a closed-joint look or in areas prone to bouts of heavy rain or persistent bugs, tongue-and-groove boards interlock together easily, creating a solid barrier with a more subtle linear design and smoother finish. Designers using TimberTech Cladding can stagger boards as they wish, ensuring the most authentic look.
Why Use TimberTech Cladding?
TimberTech Advanced PVC Cladding is one of the few alternative decking materials made with PVC rather than a capped composite. The high-performance polymer delivers ultimate durability and low maintenance alongside beautiful, authentic looks. Plus, TimberTech Cladding carries a Class A Flame Spread Index, meaning it is most likely to minimize the spread of an active flame. This can be especially important in multifamily construction or for building in fire-prone areas.
The TimberTech proprietary color blending and texturing processes capture the look of exotic hardwoods, while the advanced PVC construction ensures decades of low-maintenance, enduring good looks. Color, board width, and open- and closed-joint profile options open unlimited design possibilities for both residential and commercial applications.
Colors and textures match TimberTech deck and porch boards, allowing users to create a unified aesthetic across the home and outdoor living space. Two widths are available for tongue-and-groove boards, three widths for square-shoulder boards.
TimberTech Advanced PVC Cladding carries a lifetime limited product warranty and 50-year limited fade and stain warranty for residential and a 30-year limited product warranty and 30-year limited fade and stain warranty for commercial.
Learn more about TimberTech Cladding here.
Weyerhaeuser Distribution is committed to delivering the reliable, consistent products you can rely on. Connect with your Weyerhaeuser representative today about the decking-as-cladding solutions available in your market.