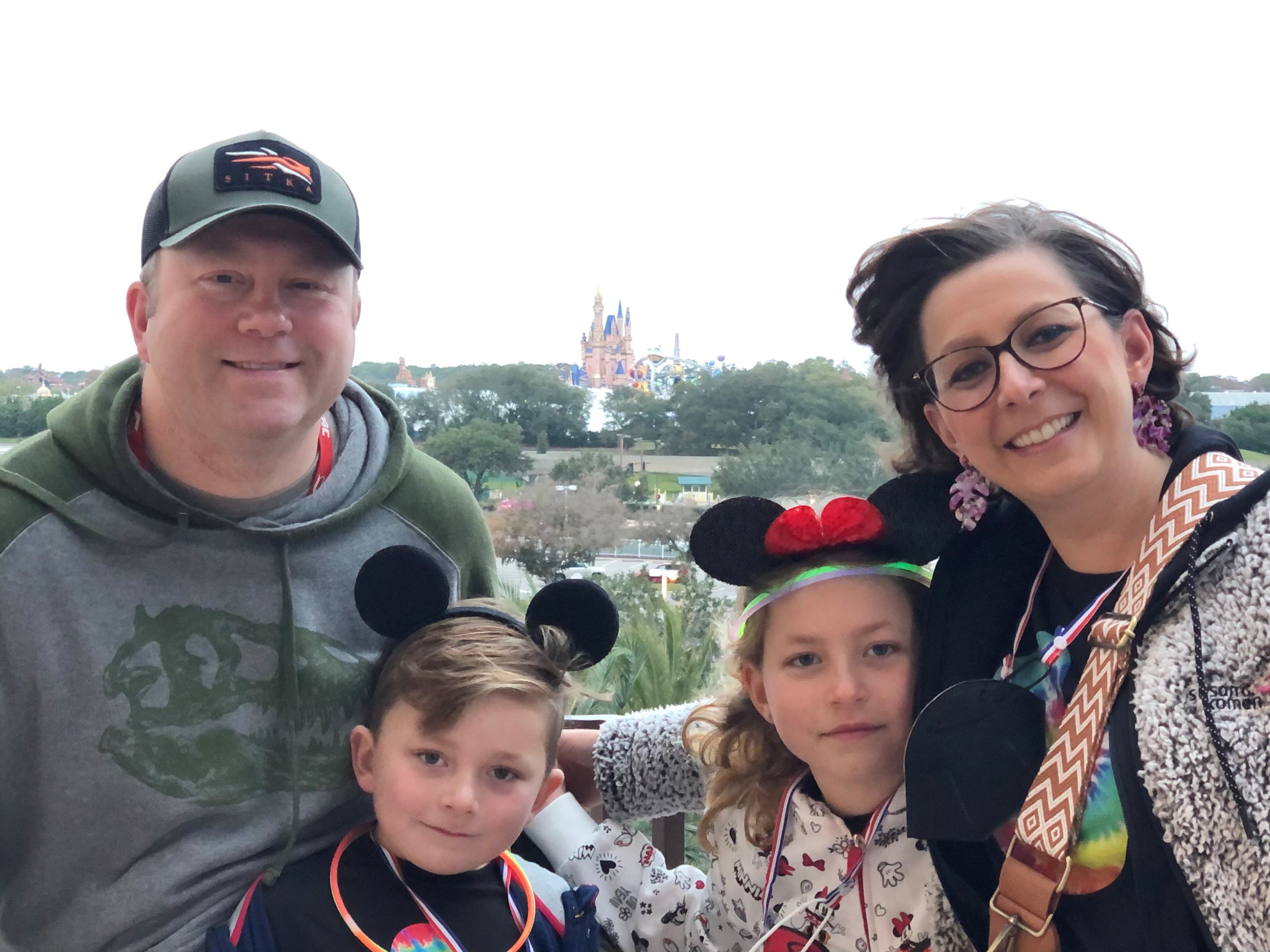 Janel, her husband Jesse, and their children Luke and Verona visited Disney World in January 2022 to celebrate Janel's final radiation appointment earlier that month.
Her title may include the word "sales," but Janel Landis, leader of strategic pricing and sales process for Distribution, says she doesn't really consider herself a salesperson. She prefers to think of herself as a problem solver.
"My goal is to work with customers to solve problems and identify ways to overcome challenges," she says. "I have a good understanding of what our products can do for customers, so I look for ways those products can bring value. To me, that's not selling. It's just being a good partner."
Janel says she's always been a curious person who asks a lot of questions and looks for solutions to difficult issues. But sometimes challenges hit closer to home than we'd like.
For the past 10 years, Janel has led fundraising events to benefit the Susan G. Komen Race for the Cure® to support breast cancer research and awareness. In 2020, her work became more meaningful when she was diagnosed with breast cancer herself. A year later, her mother was diagnosed. It was a lot to take on.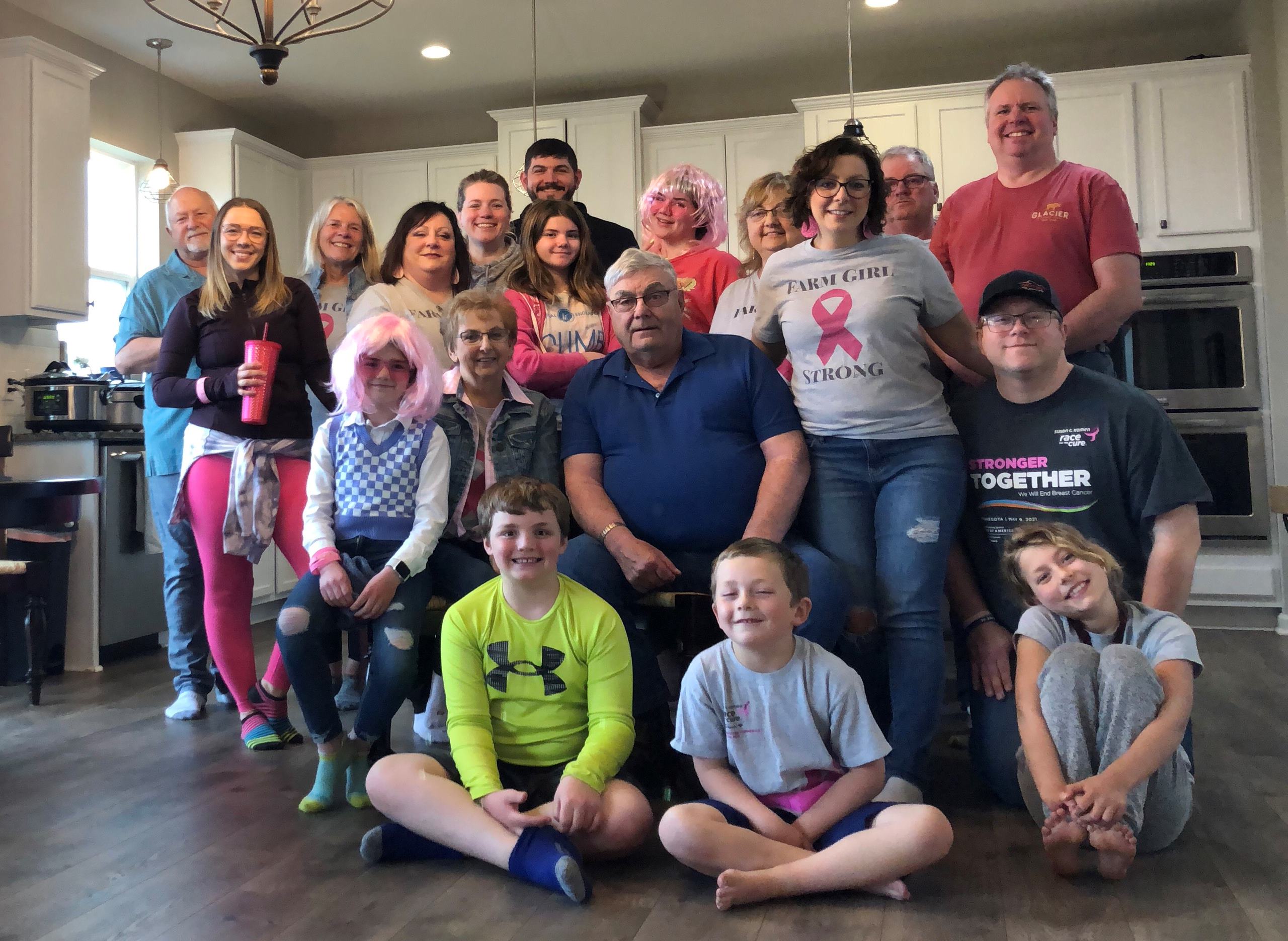 Janel's Race for the Cure team in May 2022. Janel is standing at the right in the gray T-shirt that says "Farm Girl Strong." "I was born and raised on a dairy farm, and my sister came up with this motto for me while I was going through treatment," Janel said.
"Quite frankly, even though I was running those races, I didn't think it would ever happen to me," Janel says. "Now I know how important it is to share my story, in hopes that it prompts someone else to go to the doctor sooner. I was diagnosed in June 2020 — the pandemic was in full swing, we were trying to juggle work and our kiddos, Verona and Luke, and I had postponed my yearly. One night I noticed something that wasn't normal. I went to the doctor the next day, had my first-ever mammogram and was informed four days later that I had triple negative breast cancer, which is an aggressive form. My treatment was long and the support I received from all parts of the country was unforgettable. I'm doing well now, and I'm happy I'm able to continue raising funds for research. My hope is that fundraising done today leads to a cure so my children will never have to face this problem themselves."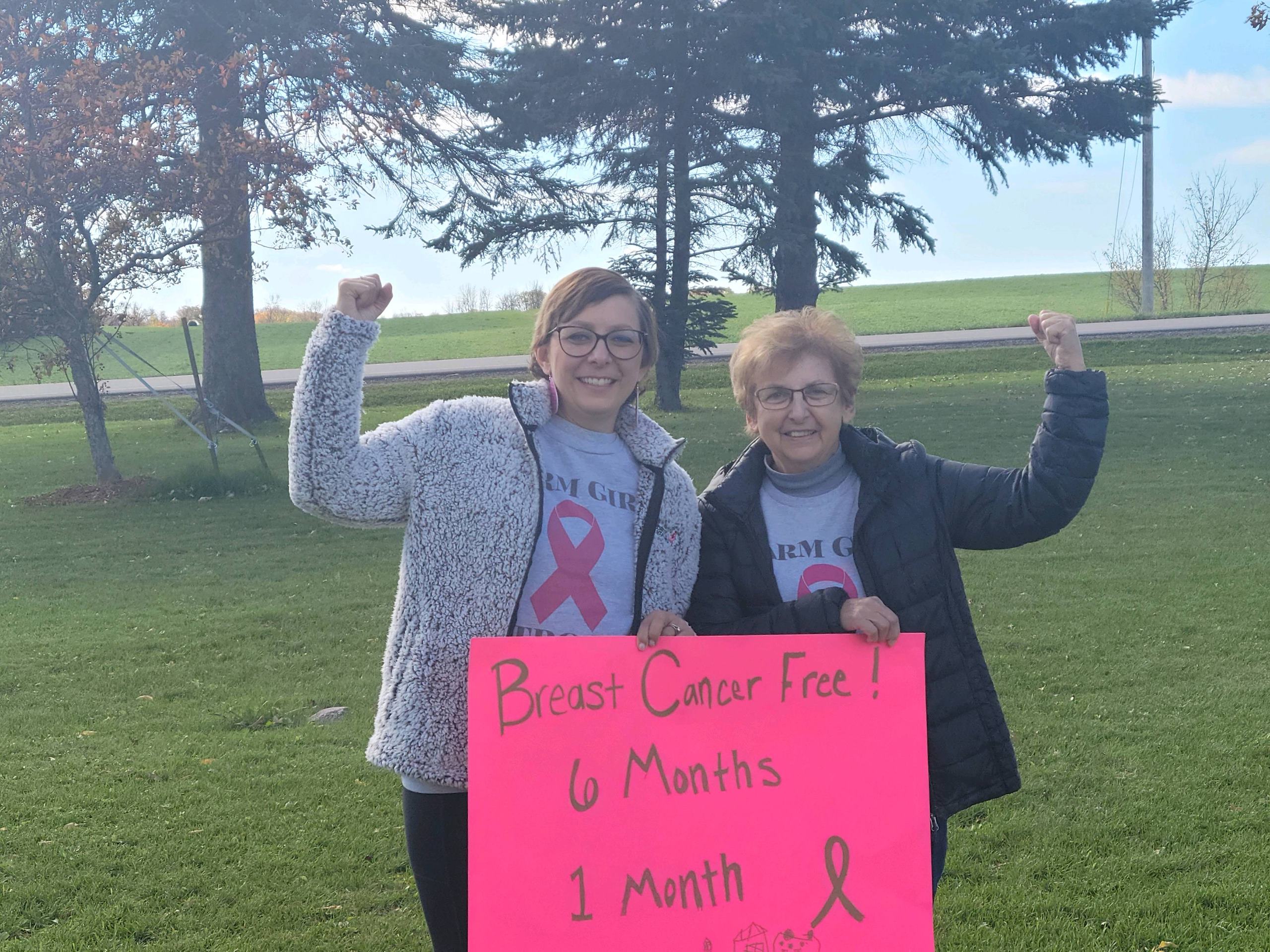 Janel with her mom, who had just finished her own breast cancer treatment, participating in the Race for the Cure in October 2021.
MEET JANEL
Your title is leader of strategic pricing and sales process. Tell us what you do.
I have a unique role because it's two-pronged. I lead a small team of pricing analysts who support our Distribution business to help capture additional profitability when we can and serve as experts for the business's pricing needs. I also work with Distribution's sales teams, developing a sales methodology we can all utilize. I get to collaborate with them when they have sales opportunities that are a bit more challenging. It's a great way to get their peers involved, seek feedback and collaborate on how to win new business.
How long have you been with Weyerhaeuser?
I've been here for 20 years. For the first half I was in support and sales roles for our Trus Joist® business. For the second half I have worked on sales processes, business development and pricing, developing and adapting tools that support our teams.
Tell us what your day is like.
Every day is different. Right now, I'm helping lead our PROPEL: Catalyst project, working on the sales and pricing pieces. I could spend my entire day on that. But my normal job is a balance of supporting Distribution's sales teams with the sales process side of things, seeking ways to help them to do their jobs more easily and efficiently through tools or processes, and working with our pricing team to drive additional operational excellence improvements. There, we look at ways to leverage our pricing to capture additional profitability while making sure our pricing strategies help us continue to grow the business.
What does your work area look like?
I live and work in Minnesota. I've been working from home for years, so the transition to remote work wasn't a big change for me!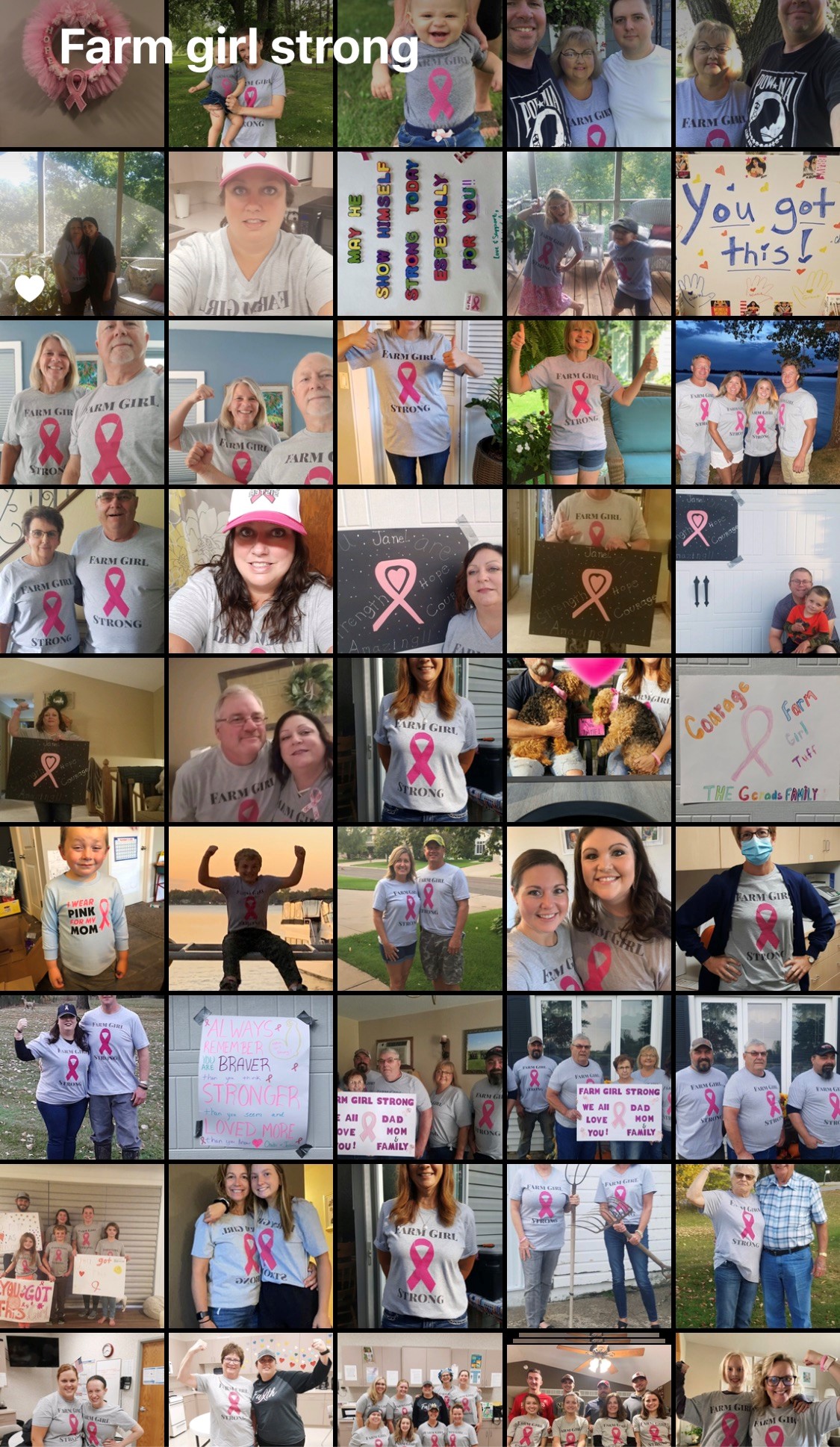 Since her diagnosis at the beginning of the pandemic, Janel's friends and family got creative to support her by sending her photos and posters.
What's your favorite part of your job?
The people. The three individuals on my pricing team and the business development team I'm part of have some of the most caring and hard-working people I know. I couldn't ask for better coworkers; they go above and beyond. I also love working with Distribution's sellers to overcome customer challenges. I don't always have the answers, but brainstorming together helps fulfill my desire to solve problems.
You must have some challenges. What are they?
There's never enough time. Plus, I tend to lead a lot of changes for the business that impact team members who don't report to me. That means I need to lead by influence and work to win them over when we have big changes or things that don't always seem fun to do.
Tell us something about your job that might surprise people.
I also lead a small team of five non-Weyerhaeuser business development reps who make sales on our behalf. This group, Market Source, gives us the opportunity to provide additional support for smaller dealers and lumber yards that we don't always have the bandwidth to serve with our in-house sales teams.
What advice would you give people who want a unique job like yours that's not well-defined?
Look for opportunities, even if you're not sure what the challenge represents. If you think there's a solution that could bring value to the business, keep asking questions, keep sharing ideas. And know that it can take time to have that idea come to fruition before it brings value.
Tell us about your interests. What do you like to do when you're not at work?
I went to college for what's called architectural construction technology, which gave me a drafting and building design background. I like the structural side of building; I'm very passionate about the construction industry, and I enjoy home design. I spend most of my free time remodeling and redecorating my home. I'm often dreaming, doodling and drawing ideas for how we might repurpose a space or build an addition, and I'm always getting out tools to do a project. I love all things construction!​​​​​​​