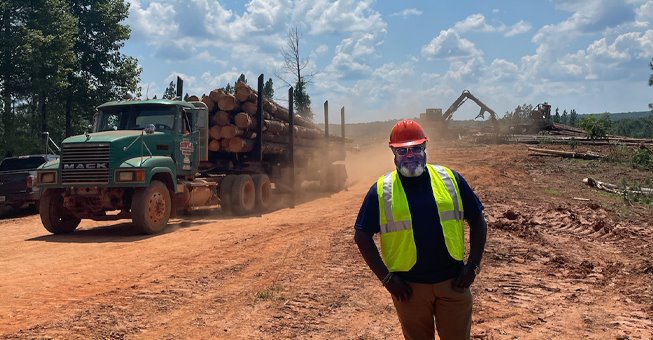 ​​​​​​​
Ron visits a harvest site near Carrolton, Georgia.
Like many of us, Ron Crear was raised thinking topics like race and gender were taboo. Then he was offered the opportunity to attend the Defense Equal Opportunity Institute while serving in the Air Force and became a military equal opportunity specialist.
"I conducted equal opportunity and diversity training and investigated discrimination complaints," Ron says. "It was the springboard to everything I've done since."
Now, after 15 years of DE&I work with the Air Force, Lockheed Martin and IBM, Ron has been working with Weyerhaeuser since July 2021 as our new director of diversity, equity and inclusion — and he started making an impact on our company and community right away.
"I like to say my role is focused on heart work, not head work, but it's connected to both our culture and performance as a company," Ron says. "Studies have shown that innovation is a direct result when companies embrace diversity and do inclusion work well, and I see so much opportunity for Weyerhaeuser to continue growing and improving in this area."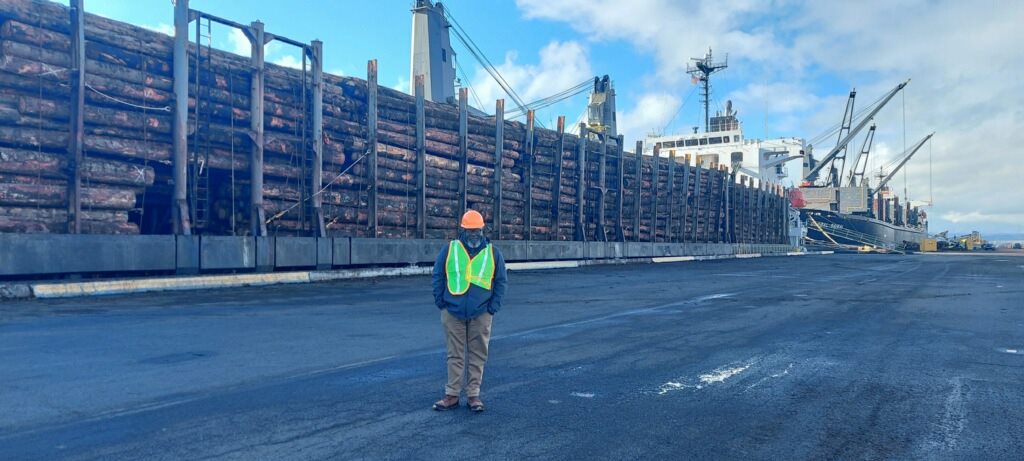 Ron at our export yard in Longview, Washington, in front of a ship loaded with our logs.
GET TO KNOW RON
What's your role?
I'm the director of diversity, equity and inclusion. I get to travel across the U.S. and Canada to visit our mills, timberlands, distribution centers and other sites to continue learning our businesses, meeting our people and helping develop programs and opportunities to strengthen our inclusive culture across the company.
How do you describe what you do to your family and friends?
I tell my mom I evangelize fair treatment across the board for everyone, regardless of geographical location, age, tenure, race, gender, sexual orientation or anything else. I am the company's evangelist for fairness.
Have there been any surprises in your experience so far?
The innovation we have in place, all the way from the seedlings to the mills. I have seen the whole process now, and the work we do is wonderful. My first mill visit was to our veneer plant in Zwolle, Louisiana. They showed me how they optimize every piece of the tree. It was miraculous to see.
What's been your favorite project so far?
Setting up the employee resource groups and watching them flourish. So far we have E-WOW: Empowering Women of Weyerhaeuser; COLORS: Community Overcoming Labels, Opening minds & Reducing Stereotypes; and a pilot chapter of ROC: Reflections of Color. These groups are doing great things for the company by engaging particular sectors and providing education for everyone. I call it the "E and E gospel:" engagement and education. I've enjoyed explaining the benefits of ERGs and how they allow us to all be on the same playing field so we can talk the same talk and walk the same walk.
What do you want to learn more about?
I'm looking forward to taking a class called "Forestry for Non-Foresters" through the University of Georgia. This class helps people like me who are new to the industry learn more about how we grow trees, how to sustain forests, and how we can have forests in place for our grandkids and our grandkids' kids.
What have you liked so far about the company or your team?
I'm part of the the Talent, Inclusion, Culture and Communications team. I might be biased (ha!), but I think our team is part of the glue of Weyerhaeuser. We have a thread all through the company because the work we do aims to help all our employees feel more connected and engaged, and to continue growing throughout their careers.
What's been most different from where you came from?
The humility. Weyerhaeuser does not brag on what we're doing inside a mill or in the woods day to day. I appreciate this because I was raised to let your work speak for itself. We can be humble and still put out a quality product and be the very best at what we do.
Have you had any bumps in adapting along the way?
A lot of people were raised not to talk about race, gender or those type of things — even I was taught that! But here I am, this Black guy from Mississippi saying, "Yeah, let's talk about it!" We need to get comfortable doing so for inclusion to really become one of the pillars of our company. Folks don't know what they don't know, and the only way we can improve is for all of us to be open to learning through discussion.​​​​​​​
The work I do won't ever go away. It's not a process or project or program. It's a journey. There's always more to learn. It may feel never-ending, but that's okay. Together we will get bigger, better and brighter. As a result, our company will profit.
Where do you see yourself in a year or five years?
This is why I am always working on my IDP! I think in the next couple years, Weyerhaeuser will be at the table with other companies who have had strong DE&I programs for eons. It will be interesting, and I think wherever I land within our company, I will be up for the journey — and it will be a good one.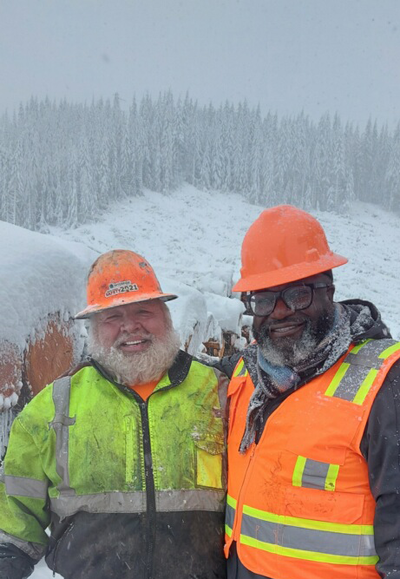 Ropn met a contractor he describes as 'Santa Claus' on our Snow Peak tree farm this past December.