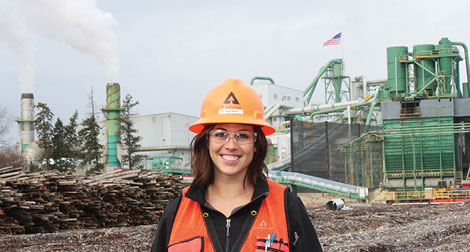 Shauna stands in front of our MDF mill in Columbia Falls. Since joining the company in 2007, she's provided safety leadership for our Montana team. In 2007, she was tapped to support Wood Products' Northwest region.
Shauna Dunn is a safety champion. It's her job.
​As an advocate for achieving sustained injury-free performance, she lives and breathes our safety value. Just as important, she works hard every day inspiring others to do the same.
​"A big part of my job is facilitating the exchange of ideas and best practices between our mills, making sure we learn from each other and grow as a team," Shauna says. "As safety leaders, it's our responsibility to drive safety excellence through both caring and daring leadership. By motivating and influencing others, we can create a strong safety culture and effect positive change in the organization."
Left: Shauna and her son, Braylon, and daughter, Grace, root on the Grizzlies at a University of Montana football game. Right: Shauna practices and teaches yoga. It keeps her body limber and her mind still, she says.
MEET SHAUNA
​Your title is Wood Products safety liaison, Northwest Region. (Note: Since this interview was conducted, Shauna has been promoted to Corporate Safety Liaison.) Tell us what you do.
​I provide technical safety support and leadership to the nine wood products mills in the Northwest. This includes sites in Montana, Oregon, Washington, and Vancouver, B.C. I work closely with the region vice president, unit managers and safety managers to ensure their safety programs are successful and aligned with the company vision and expectations.​
​My role is to provide guidance, insight and strategic direction so we're all working toward continuous improvement. We work in a constantly changing environment — encompassing leadership, people, equipment, manufacturing processes and business needs — so we have to keep evolving.
​In addition to working with regional sites, I collaborate with the corporate safety team on initiatives that affect the business, making sure sites have the right tools in place to execute their safety programs.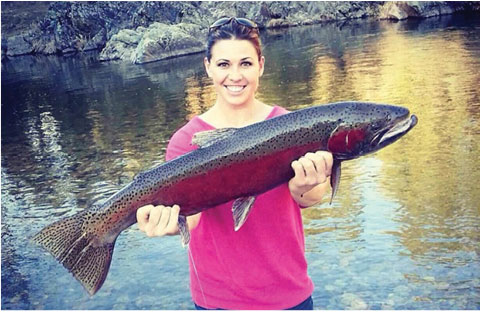 Shauna and her family enjoy the Montana outdoors. During a fishing expedition, she landed a prized steelhead.
What led you to choose this job?
I began my safety career in college. I received a bachelor's degree in Occupational Safety and Health and a master's degree in Industrial Hygiene, both from Montana Tech. Every summer during college, I completed a safety internship. My first job out of college was working as an industrial hygienist for a company in Salt Lake City that manufactured rocket motors. I joke that it's probably the closest I'll ever get to becoming a rocket scientist.
I was hired as a safety engineer for Plum Creek in 2007, and over the years worked in lumber, plywood, MDF and Timberlands. During the merger, I was part of the Integration Team and worked to ensure a safe transition. In 2017, I worked with the Industrial Hygiene group supporting the Flak Jacket response.
​This summer I was promoted to take on safety for the Northwest Region. It's been a great experience to move from site-level support into a broader safety leadership role.
Tell us what your day looks like.
​I spend most of the day working directly with the sites I support. Common activities include site safety visits, safety and leadership training, serious incident investigations, OSHA inspections and safety audits. I'm based in Montana, so there's a lot of telecommuting: phone, email, and Skype. But there's also quite a bit of travel. I try to visit each site as often as I can.
What do you like about your job?

​Ultimately, I love working with people and get the opportunity to do so every day. I'm passionate about safety and making a difference in people's lives, and am proud to work for Weyerhaeuser. It's great to work for a company where safety is a core value and embraced at all levels.
What's challenging?
​The biggest challenge is supporting nine different sites. Each site has different needs based on culture, leadership, incidents and experience. The products we make in the region include lumber, plywood, engineered lumber and MDF, which each present their own safety challenges.
​I work with sites and individuals to better understand their greatest needs and then do whatever I can to support them. It's a challenge, but one that I enjoy and embrace fully.
Tell us something about your job that might surprise people.
​Being a safety leader requires a balance of grit and grace. To be successful, I believe we have to balance being courageous, holding strong and persevering with a certain level of humility and a willingness to acknowledge shortfalls and adapt. We have to be positive and encouraging, but be tough about enforcing the rules at the same time. Grit and grace is about finding that balance.
When you were young, what did you want to do?
​When I was in elementary school, I wanted to be an architect. I spent hours designing floor plans and sketching pictures of my dream home. When I was in high school, I considered becoming a pharmacist or a physician's assistant. I eventually chose safety in college. I had a friend in the program who thought it would be a great fit for me because it required a blend of technical skills, including science and math, and people skills. It's the perfect match for my interests.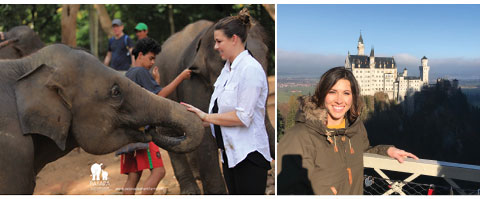 Left: An elephant greets Shauna in Thailand. In addition to safety, travel is one of her great passions. Right: Shauna at Neuschwanstein Castle during a trip to Germany.
Tell us about your other interests.
​I have two amazing kids. My son, Braylon, is 9, and my daughter, Grace, is 7. We live in Whitefish, Montana, and love spending time outdoors. In the summer, we go out on the lakes and rivers to boat, kayak and paddle board. In the winter, we hit the slopes and go skiing.
​I love traveling and am always looking forward to my next adventure. I have a bucket list of places I want to go. Last year, I went on a two-week solo trip to Thailand…it was amazing! Earlier this year, I went to Mexico for a yoga retreat and I just returned from a trip to Germany. I feel very blessed and fortunate to be able to see the world.
​I also teach yoga. I started practicing about 10 years ago and enjoy sharing it with the community. There are definitely physical benefits, but what I love the most is the mental stillness and clarity I experience both on and off the mat.