Air
Meeting strict requirements
Many of our air quality improvements are the result of process modifications, the use of lower-emitting additives and pollution-control equipment that captures or destroys significant amounts of air emissions. In 2017, we continued to make additional capital investments at several of our mills to further reduce our air emissions — including cleaner burning units, energy optimization and upgrades to emission control systems. These continued improvements have helped us lower our carbon monoxide emissions by 25 percent since 2016.
Most of our air emissions come from burning fuel to produce energy. We are committed to sharing our company-wide air-quality data and continue to work on additional reductions, including significant upgrades to many of our facilities to comply with new regulations limiting hazardous air pollutant emissions from boilers and process heaters.
Our air emission accounting is most often based on emission factors and actual or estimated production levels at each site, making these numbers challenging to roll up and compare year-to-year. We noticed our emissions were changing more from accounting practices and revisions to emission factors rather than from actual process changes.
In 2015, we decided to remove our air emission reduction target from our 2020 sustainability goals and focus on facility-level improvements and meeting new, stricter air-quality regulations.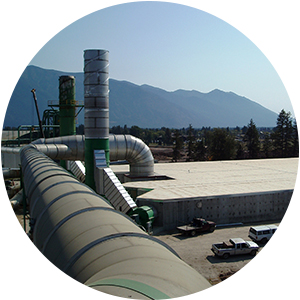 LIVING OUR VALUES
How four trillion bugs help eat away at waste emissions
There's something buggy about the biofilter system at our medium-density fiberboard (also called MDF) facility in Columbia Falls, Mont.
The biofilter system's bugs are microscopic organisms, or bacteria, that clean the air of chemicals released during the manufacturing process.
The system is one of the world's largest and takes up more than an acre. It houses about four trillion bugs that clean 900,000 cubic feet of air emissions per minute.
Traditionally, emissions from the dryers would be burned in oxidizers, which create their own gases. The oxidizers are also typically fueled by natural gas, which is expensive in remote locations like Columbia Falls.
Using the bugs is a green technology that's more efficient, uses less energy than other methods and helps our operations meet air quality requirements. Biofilters are also being used at our facilities in Michigan, North Carolina and West Virginia.