Energy
Renewable energy at its best
CREATING OUR OWN ENERGY
It takes energy to run a sawmill and make our wood products. Fortunately, we have a steady supply of a renewable, carbon-neutral fuel source in the form of biomass (the bark, chips, wood residuals and other organic byproducts of our manufacturing process).
We meet 71 percent of our energy needs from our biomass. Quite simply, we turn our residuals into energy — a double win for our bottom line and the environment.
For the remainder of our energy needs, we purchase electricity and fuel to power our wood products mills.
We are committed to reducing energy intensity (energy per unit of product we produce) by 25 percent between 2009 and 2020. We are on-track to meeting this goal — by the end of 2017, our energy efficiency improved by 16 percent.
Some gains are simple, like turning off lights and equipment not in use, while others require capital investments to upgrade to new equipment or modify existing machinery.
Our capital improvements need to perform double duty, introducing energy savings but also production efficiencies.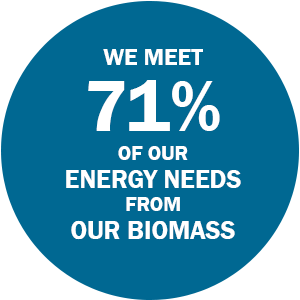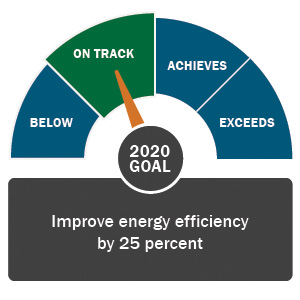 PROVIDING RENEWABLE ENERGY
In addition to supplying other mills, companies and utilities with biomass, a renewable, carbon-neutral fuel, our timberlands provide the necessary land base for renewable energy production, such as wind and solar power.
We partner with reputable industry leaders who take the lead identifying, evaluating, permitting and building projects. After a thorough evaluation and permitting process, we grant easements on our lands to qualified third parties who use our property to create renewable energy and allow us to develop additional revenue.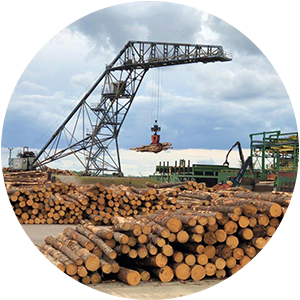 LIVING OUR VALUES
Plymouth sawmill's new compressed air system is increasing energy efficiency
In 2017, our Plymouth, North Carolina sawmill installed a new, state-of-the-art compressed air system, allowing the mill to work more efficiently and significantly reduce its annual energy bill.
Compressed air is a critical component in our manufacturing processes, from log breakdown to sawing and sorting. It's used in a variety of pneumatic systems to open and close mechanical gates and move mechanical arms that position material on the line.
Previously, the system was prone to drastic pressure swings. It also gobbled up energy and required excessive maintenance. While researching a solution, the Plymouth team was able to identify a number of opportunities for improvement.
Now, with new tanks and dryers, more storage, new compressors and a new compressor room with state-of-the-art air filtration, the mill is using less energy and saving a lot of money.