Residuals & Waste
We don't let our logs go to waste
Waste is not a word we use often. Logs too small for dimensional lumber are processed into engineered wood products, such as our oriented strand board, or are used to create a whole host of other products. Our woody residuals, from the forest and the manufacturing process, are used to generate renewable energy (which we call biomass). We actively seek partners and customers to use our wood residuals, who in turn create other useful products.
We don't let much go to waste. Whether its through our products, sold as residuals or burned as biomass energy, we turn more than 94 percent of each log into something useful.
Additionally, in 2017, more than 12 billion pounds of our residuals were reused, recycled or used for energy. This amazing feat is much of how we are able to continue to reuse or recycle 98 percent of our waste and residuals. This means only 2 percent of our waste ends up in a landfill, an accomplishment we are quite proud of.
---
What does 12 billion pounds look like?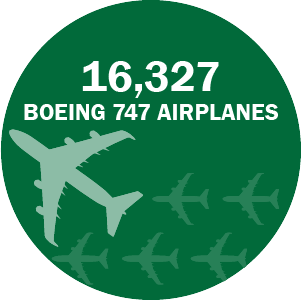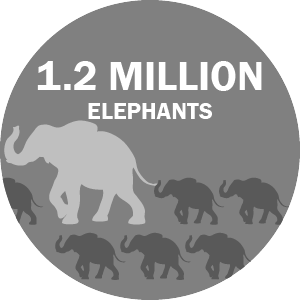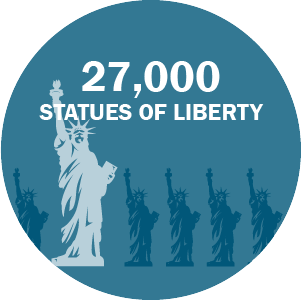 ---
RESETTING OUR BASELINE
Although a small percent of our waste ends up in the landfill, we continue to find creative and responsible alternatives for our residuals and waste. In 2010, we set an initial goal to reduce the amount of material we send to landfills by 10 percent (for every unit of production) by 2020 compared. Since setting our goal, we saw large fluctuations in our annual numbers given the relatively small amount of landfill-bound waste we produce, the irregularity of when we send ash to landfills (ash is produced at facilities burning biomass residuals for energy) and when our capital projects are implemented.
In 2015, we changed how we track waste-related data at our mills. Given the improved accuracy in data collection and the reality that landfill-bound is not steady from year-to-year, we decided to adjust our waste reduction goal. While we will continue to find alternative uses for our residuals and look for ways to decrease our landfill-bound waste, we reset our company-wide goal to establish a more appropriate baseline based on a consistent set of data and a 5-year trend.
View our residual and waste data
---
LIVING OUR VALUES
From Aspens To Ashes
Our oriented strand board mill in Edson, Alberta is cutting waste by using nearly 100 percent of every log, right down to the ashes.
Since 2002, the team at our Edson OSB mill has worked with provincial regulatory authorities to provide ashes from the mill - about 2,000 tons annually - to regional farmers, rather than sending it to landfills.
The natural soil pH levels in Alberta can be quite acidic and hinder growth in certain crops like alfalfa, so the ash serves as a beneficial soil additive for farmers.
You can learn about the process from mill to farm here in our Wood Products blog.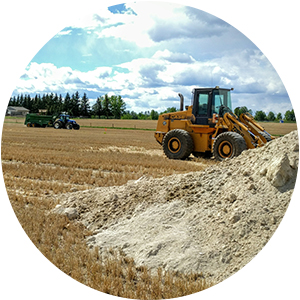 YOU MAY ALSO BE INTERESTED IN: