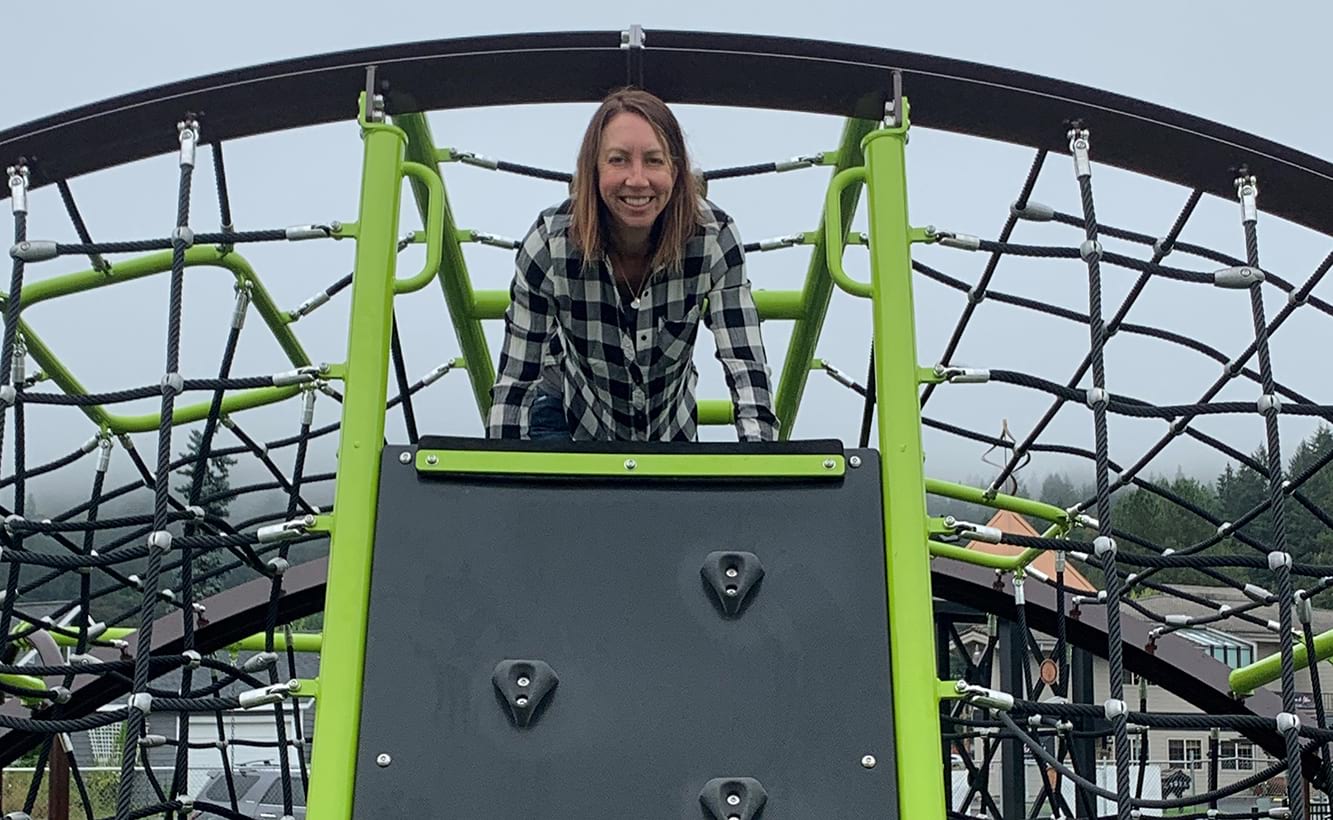 When Jessica Homyack, director of Environmental Research & Operational Support, moved from North Carolina to Centralia, Washington, five years ago, she wanted to find a way to build relationships in her new community. After a bit of research, she came across The Chehalis Foundation in the neighboring town of Chehalis. The foundation offers a STEM program in local schools, which seemed like a good fit for Jessica's skills and background as a scientist. But when she inquired where the foundation needed the most help, they asked if she'd be willing to tackle a different project instead: reimagining an iconic community space, Penny Playground.
Penny Playground was built at Recreation Park in Chehalis in the early 1990s, funded by a penny drive campaign where local schoolchildren collected change. The community built the playground's beloved wooden castle in just a week in 1993, and it's been in constant use ever since. But the wooden structure wasn't up to today's safety standards, and it wasn't accessible.
Jessica jumped right in and co-chaired the renovation project with her husband Tom. They recruited other volunteers, helped with the design and provided public outreach to gain community support for the overhaul.
"Jessica became involved in this project because she wanted to be a good role model for children, and she lives that role daily," says nominator Lilly Wall, recreation manager for the city of Chehalis. "She's an outstanding parent and a great leader, generous with her time, energy and resources."
As part of Jessica's 2020 Volunteer of the Year Award recognition, the Chehalis Foundation received a $5,000 WAVES grant to help fund ongoing maintenance of the new playground equipment.
MEET JESSICA
Tell us a bit about your day job.
As director of Environmental Research & Operational Support, I oversee a team of people within Timberlands Strategy & Technology who work on science-related issues like water quality, wildlife science, and ecology. There are about 20 of us, spread all across the U.S.
What motivates you to volunteer?
My kids, Leo and Violet, who are 9 and 12 years old. I want to role model for them what it means to give back to others. Also, as relative newcomers, volunteering gives us opportunities to make connections and get to know new people.
What made you choose The Chehalis Foundation?
Initially, I was interested in contributing to their program for STEM education in local schools. Then the idea to renovate Penny Playground at Recreation Park came up, and they approached me to lead a strategic planning committee.
Everyone loves the playground, but the castle structure was well past its prime and becoming unsafe. My husband Tom and I decided to co-chair the effort and make it a family project.
What are the challenges you see that you're trying to address with this work?
An important part of this project was making the playground as inclusive as possible, so that children of all abilities would enjoy it. We worked with top manufacturers of accessible playground equipment to come up with a design that's even more exciting than the old playground and includes features that can be enjoyed by any child, like a zero-entry merry-go-round that's wheelchair-accessible.
Many locals had strong emotional connections to the existing playground, so we reached out to the community, listened to their concerns and talked to them about what we planned to do. The new playground hasn't opened yet due to COVID, but kids and parents are eagerly anticipating the day they can use the equipment.
What's your favorite part of your work with the Chehalis Foundation?
It's allowed me to get to know so many new people and make some great friends. It's also given us deep roots in our community. The people in the area engage in a lot of community-led projects, both by providing funding and by stepping up and doing the work.
What advice would you give to someone who wants to give back but doesn't know how/where?
Find something that matters to you. I didn't think I had time to work on a project like this, but because it meant something to me, I made it work. If you commit to volunteering and make it a priority, you'll find room in your schedule.
How have you benefitted or changed from this experience?
Volunteering has always been important to me, even as a teen and a young adult. As I got older and took on lots of new responsibilities, it was hard to make time for it, but I always felt like I was missing something. I'm so glad I took advantage of the opportunity to join this project, because it lit a fire in me to keep going.
What's next?
I'm in the early stages of rejuvenating an urban forest in Chehalis. It's been underfunded and low on the priority list, so I'd like to develop a committee of friends and volunteers to clean it up, remove invasive species and make it a safe place for people to spend time in nature.