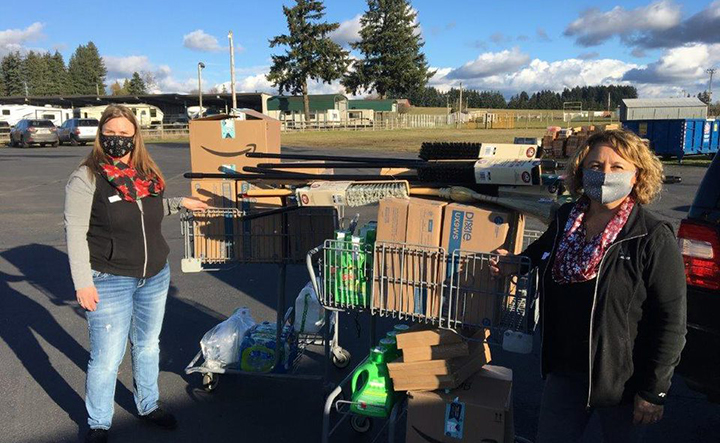 Even though the unprecedented wildfires in Oregon were long gone by late November, many people were still struggling. So Cara Barnes and Dana Cunningham went searching for a way to step up and help.
Cara and Dana are Weyerhaeuser work twins; they started as administrative assistants at our Snow Peak tree farm in Lebanon, Oregon, within weeks of each other 15 years ago. In all those years, they've never experienced a wildfire like Beachie Creek, which started on Aug. 16 and grew to more than 193,000 acres, including portions of our Snow Peak and Clackamas tree farms. (Read more about how our teams worked together to limit the damage on our Clackamas tree farm and its surrounding communities.)
"I have a good friend who lost her home," Cara says. "Almost everyone here knows someone going through hard times."
HOPE FOLLOWS TRAGEDY
Beachie Creek was one of three fires to affect many communities in the Santiam Canyon in northern Oregon. It and the Lionshead fire were already two of the state's largest when Riverside ignited on Sept. 8.
The Oregon Department of Forestry, which is responsible for fighting wildfires, found itself without enough firefighting personnel and resources to mount an effective response against a fire on so many fronts. By the time the three fires were done burning, the flames had taken a half dozen lives, destroyed thousands of structures and homes, and burned more than half a million acres of land, including about 125,000 acres of our own timberlands.
"When you drive through Santiam Canyon, the devastation is staggering," Cara says. "You see entire towns wiped out. But you also see people coming together, helping clean up, clear property, remove hazard trees, just helping each other out the best they can."
A SPECIAL DELIVERY
This same spirit moved Cara and Dana to action. They consulted the Santiam Canyon Wildfire Relief Fund for a list of needed items. With the support of their supervisor and with approved company funds, they purchased bath towels, sheets, underwear, brooms, tarps, sponges, and gas and grocery gift cards.
They dropped off their purchases — one carload in early December and another a few weeks later — at a hand-off point in a local parking lot, where other volunteers drove the supplies up the canyon and delivered them to people in need.
To help further, our Giving Fund made a direct grant of $10,000 to the Santiam Canyon Wildfire Relief Fund. To date, the organization has supported 960 households, including 13 families still living in hotels as of mid-December.
A STATE OF GIVING
More than 1,000 families across the state were still uprooted in December. An estimated 40,000 people were evacuated, and, tragically, 11 people were killed during the 2020 fire season. Many others lost homes or jobs and encountered other fire-related hardships. More than 1.2 million acres burned, more than twice the acreage of a typical Oregon fire season.
To assist in the early response, Weyerhaeuser donated $150,000 to the American Red Cross on Sept. 14. The relief organization housed residents in more than 85,000 hotel rooms and provided 231,000 meals and countless other essential supplies through Oct. 31, when the state took over recovery efforts.
"We're grateful for the support of our corporate partners like Weyerhaeuser as well as individual contributions," says the Red Cross' Chad Carter. "They're both essential in supporting our mission of preventing and relieving suffering at home and around the world."
And the Red Cross donation was just a first step. Weyerhaeuser also contributed $200,000 to the Oregon Community Foundation, established at the request of Oregon Governor Kate Brown to support communities and individuals over the long term.
Wildfire Relief Grants
The following community organizations were awarded grants, in addition to Weyerhaeuser's larger donations to the Oregon Community Fund and American Red Cross:
Douglas County UCAN

Estacada Area Food Bank

Food for Lane County

Food Share of Lincoln County

Linn Benton Food Share

Linn County Wildland Fire Victims Fund

Marion Polk Food Share

Molalla High School Student Body Fund

Santiam Canyon Wildfire Relief Fund

South Coast Food Share
In addition, the Weyerhaeuser Giving Fund distributed 10 grants totaling $100,000 to various community organizations across the state. Along with the donation to the Santiam Canyon Wildfire Relief Fund mentioned above, these organizations included several food banks, which are having a tough time keeping their shelves filled due to the simultaneous challenges of the fires and the COVID-19 pandemic.
WE ARE OREGON
While company grants are critically important, so are the individual acts of kindness such as Cara's, Dana's and so many others.
Traci Lane, a utility cleanup crew member at our sawmill in Cottage Grove, Oregon, helped rescue roaming pets and livestock displaced by the wildfires. When she asked for support, the mill donated tools and gloves to build pens and cages, and a truckload of shavings and sawdust for bedding. Cottage Grove also donated masks for Traci and her fellow volunteers, including N95s for those going into the burn areas to search for and recover animals.
There's also Rudy Frazzini, a forester who recently had an epiphany after driving by Poppa Al's burger joint in Mill City.
"They have the best burgers in town," Rudy says. "They'd been out on the side of the road, giving away food for free so it wouldn't go bad. They were struggling financially, but still so positive and generous."
So he started organizing and participating in fundraisers for people, businesses and neighbors across the region.
"I get paid to plant trees and heal the landscape," Rudy says. "But, like every Weyerhaeuser employee who lives or works here, I'm also a member of the community. I want to do whatever I can to help them our community get back on our feet."