Sustainable Forestry
We are one of the world's largest private timberland owners. In the United States, we own or have long-term leases on more than 12 million acres of timberlands in the Pacific Northwest, the Northeast and the South. In Canada, we manage millions of acres of publicly owned land under long-term licenses. Our entire timberland portfolio is certified to third-party sustainable forestry standards.
We responsibly manage our forests to ensure a sustainable supply of wood for our customers, today and in the future, while protecting the other important benefits they provide, such as clean water, clean air and biodiversity. We understand the importance of being a responsible forest owner and we've been at it for a long time:
We advocated for legislation in 1925 to encourage reforestation, which was an uncommon practice at the time.
In 1937, we began research into sustainable yield forestry, which ensures harvesting doesn't diminish the forest's ability to provide the same volume in the future.
We were one of the first companies to plant tree seedlings by hand in 1938. A new crop was born and Weyerhaeuser's tree-planting era began.
In 1941, we established the first certified tree farm in the United States. It was located on 120,000 acres of harvested and fire-burned land in Washington state.
We planted our 2 billionth seedling in 1986. The seedling was planted in the blast zone of Mount St. Helens to commemorate the completion of a restoration effort in which 18 million seedlings were planted.
WE HARVEST AND REPLANT
Today, we practice intensive silviculture to improve forest productivity, including planting seedlings to reforest harvested areas and monitoring and caring for these planted trees as they grow to maturity.
Averaging across our regions, we harvest less than 2 percent of our forests each year. This equates to roughly only 20 acres of every 1,000 acres of forests we own or manage being harvested each year — which means the other 980 acres are either being replanted, regrowing or continuing to grow.
We reforest the vast majority of our harvest sites by directly planting seedlings and, on average, replant 98 percent of these sites within two years or growing seasons after we harvest. We use natural regeneration on some of our forests, where we are required to ensure successful generation within five years or growing seasons.
We have robust internal policies and management systems to guide our sustainable forestry, most notably our Sustainable Forestry Policy and our certification to the SFI Forest Management standard.
We believe sustainable forestry requires continuous improvement based on sound science and innovation. We have a world-class internal research program, heavily invest in outside research and partner with many others to help improve the practice of sustainable forestry. In 2017, we invested more than $13 million in research related to forest health and productivity, water quality and biodiversity.
MORE THAN JUST TIMBER
In addition to a reliable and sustainable supply of wood fiber, our forests provide unique environmental, cultural and recreational value. Our practices ensure we protect these benefits, including habitat for wildlife, functioning and healthy ecosystems for clean air and water, access to recreation for our communities and many other ecosystem services.
We partner with local, regional, national and global nonprofits, research organizations, universities and government agencies. These partnerships support research, monitoring and outreach about sustainable forestry, best management practices, tree improvement, climate science and much more.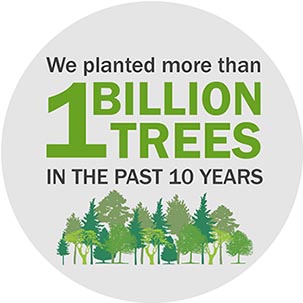 WHAT IS SUSTAINABLE FORESTRY?
 We think this video, produced by forestinfo.org, is a great and fun introduction.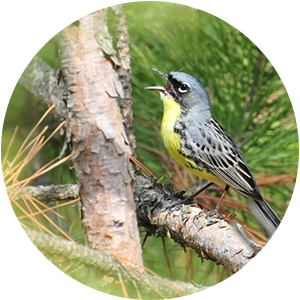 Photo credit: Joel Trick, USFWS
LIVING OUR VALUES
Wooing the Warbler in Michigan's Upper Peninsula

Fifty years ago, the Kirtland's Warbler faced extinction. With only about 400 individuals thought to exist, it was one of the first species listed under the U.S. Endangered Species Act.
The bird's numbers have increased since it was listed and we're doing our part to create a home for the Kirtland's Warbler on our property in Michigan's Upper Peninsula.
A biologist with the U.S. Fish and Wildlife Service contacted our team after a Kirtland's Warbler was spotted near the Yellow Dog Plains where we operate. It turns out our forest regeneration activities happened to create the type of young forest space the Kirtland's Warbler prefers.
With the help of the U.S. Fish and Wildlife Service, we began to establish young jack pine stands with shrubby openings to attract the Kirtland's Warbler.
These types of public-private partnerships are critical for protecting threatened species, like the Kirtland's Warbler and others.
The good news? In April 2018, these efforts contributed to the U.S. Fish and Wildlife Service's proposal to delist the Kirtland's Warbler from the endangered species list.